In the past, medical-cannabis dispensaries were often viewed as a blight on a city. Many would pop up in the shadows of town, as bleak and secretive as a sketchy head shop. Amber Cole, owner of the Walla Walla Cannabis Company at 927 W. Main St., set out to fight that perception.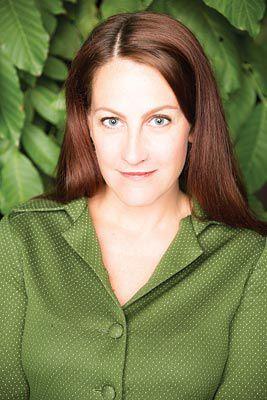 "I had a vision to create a warm, accessible, well-designed environment where people could get quality, responsibly farmed products with friendly service and fair, honest prices," she said.
As a child, Cole, a native Washingtonian, spent many summers visiting family in Walla Walla. Prior to launching her recreational retail brand, she worked as a founding operations and marketing director for one of the state's leading medical-cannabis producer/processors, a role through which she developed knowledge of and familiarity with the industry and community.
"What I learned during that time is that quality and transparency matters, and I felt that there was a huge education gap between medical and recreational cannabis consumers," she said.
During this tenure she helped found the Leaf of Hope program, which donated high-CBD medical product to families of children suffering from severe forms of epilepsy.
Before her initial stint with medical cannabis, Cole — an independent businesswoman through and through — worked as a freelance commercial photographer, partnering with leading editorial publications on international campaigns. In 2014, she entered the retail-cannabis industry with a couple-hundred-dollar investment in a business license.
The Cannabis Company, which plans to begin medical sales by the end of August, seeks to provide top-notch customer service and positive interactions with its customers.
"I wanted to provide an open door where you can get answers to questions that are science-based and well-researched," Cole said. "We have staff meetings weekly to review products — how they are made, and where — so that we can be specific about our product offerings."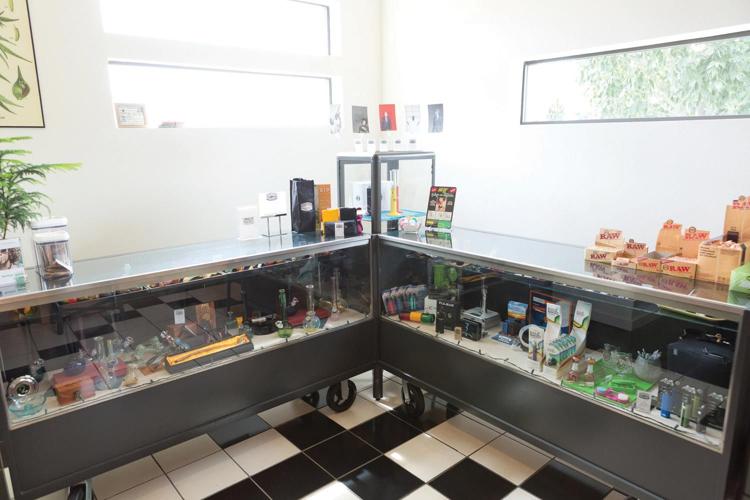 Patrick Holloway and his wife, Crystal, of Hermiston, have been blowing glass for 20 years. …
"... (P)urchasing cannabis in a package while being rung up by a cash register is still a new thrill," said Nickie Gunther, store manager. "I personally don't want to lose sight of that. We will always ask if this is someone's first time, and we take care to ease them into it."
The shop was designed by local architect Raffaele Exiana. VG fir shelving ascends the store's back wall, holding flower samples, packaged edibles and cannabis-related artwork. The woodwork is reminiscent of furniture crafted at Walla Walla's Whitehouse-Crawford mill and found in old pharmacies in town. This similarity was intentional, Cole said.
"We decided to treat the shop as a modern-day apothecary, with warm wood display space in a brightly lit environment," Exiana said.
Cole's medical-cannabis background enabled her to seek out the quality product she wanted. The Cannabis Company features the town's largest selection of sustainably sun-grown, pesticide-free products, which Cole said is the future of commercial cannabis farming.
"Many people don't realize that indoor grows are a result of prohibition and hiding, unlike anything you would ever see in large-scale agriculture," she said. "The sun, by design, produces better products because (the cannabis) gets the full spectrum of sunlight, which develops the colas (flowers) of the plant to their full potential. The indoor cultivation culture has a lot of money invested in these warehouses, so they are very protective of their investment, but it's not sustainable when scaled to meet demand. It's estimated that 1 percent of the U.S. energy resources currently are spent on the high costs of indoor cannabis production, and the industry is not even fully up and running yet."
Cole has created a business that has become an industry leader with a driving focus on the importance of sustainable practices in farming, operations and supporting the sun-grown movement. She stands by the Cannabis Company's product selection, visiting the farm of each producer whose lines she sells, and requiring vendors to fill out a questionnaire to explain their cultivation and operational methods. This knowledge is important to Cole, who encourages the industry to be more transparent and to educate customers.
"... (A)s pioneers in this industry, aligning with like-minded farmers and processors who care about the products they produce and what the store represents in these first few moments in history is important," she said. "We stand for quality and education, because this might be the customer's first experience in a while with cannabis, and we want it to be a positive one."
In July, Straight Line Analytics, a firm that analyzes the industry, declared the Cannabis Company one of the top "Fair Trade Regulated" cannabis stores in Washington from January 2016 through April. The designation is earned by medical-endorsed stores that pay cannabis producers a better rate for their product, thus helping to keep the farmers in business.