It was a good evening at the Reyes household in College Place.
As they love to do, Josh and Kara Reyes had sat down for a family game time with their four children. It's one of their favorite ways to hang together, especially when the COVID-19 pandemic keeps everyone closer to home.
On this occasion, dealer's choice was a friendly game of poker, although his son Ethan would choose Monopoly every time, Josh Reyes noted as he dealt the cards.
"We save that one for special occasions," he added, referring to the hours a good game of Monopoly can require.
The truth is anytime Josh Reyes has the energy to interact with his children has become a special occasion.
Before the tail end of 2020 Josh Reyes, 41, was thriving. His nurse practitioner career of 13 years was doing well. A rigorous fitness routine included doing a CrossFit regimen four or five days a week.
He's not the kind of guy to boast, Josh Reyes recently posted on Facebook, but he was proud of the hard work that had built muscle and endurance.
Everything changed on Dec. 27. Everything remains changed, he said.
That's the date Josh Reyes was diagnosed with an acute COVID-19 infection, two days before he was scheduled to get his first vaccination against the virus.
"I spent three and a half weeks laying around in bed with headaches, dizziness, nausea, body aches and extreme fatigue. After the first week I made several attempts to work from home, seeing patients via telemedicine, but had to stop due to worsening headaches and dizziness when on the computer. I was blessed enough to not need hospitalization but despite feeling minimal respiratory symptoms my oxygen saturation dropped to 90% just laying there doing nothing," he wrote on social media.
Nine months after testing positive for the coronavirus, Reyes continues to be what he calls "the face of long COVID."
The syndrome has earned a few names in its brief life — post-COVID syndrome and long-term COVID are two.
According to Johns Hopkins Medicine, mild or moderate COVID-19 lasts about two weeks for most people.
Others, like Josh Reyes, "others experience lingering health problems even when they have recovered from the acute phase of the illness," notes a report written about the health issue for Hopkins.
There is no longer live coronavirus in such victims and they test negative after the active case has resolved. But the "long haulers" of the coronavirus can end up severely debilitated.
Lingering impact
According to the Centers for Disease Control and Prevention, "the most common lasting symptoms are fatigue, shortness of breath, cough, joint pain and chest pain. Other issues include cognitive problems, difficulty concentrating, depression, muscle pain, headache, rapid heartbeat and intermittent fever."
Josh Reyes knows this well.
About 10-20% of victims of the illness will join him in this unwelcome club, the nurse practitioner said, and that prediction is based just on what medicine knows at this moment about COVID-19.
At present most studies say people who have long-term effects from catching the disease usually have certain risk factors, such as high blood pressure, smoking, diabetes and obesity.
Josh Reyes fits none of those demographics, but he's Latino and the virus is affecting minorities significantly more, he said.
He was 6 years old when his family left Panama and moved to Florida. Seven years later his father had a stroke, and the family came to Walla Walla to live with Josh Reyes' uncle for a time as his dad recovered and resumed working.
After Josh Reyes graduated from Walla Walla Valley Academy he earned his nurse practitioner degree and began work at Walla Walla General Hospital, moving to Walla Walla Clinic in 2017 when the hospital closed.
There has been a great deal of hard work involved in reaching this level of success, but Josh and Kara Reyes, married 18 years, have seen the goodness of God in all of it, the couple said.
They cling to that, especially on the days Josh Reyes barely recognizes himself.
Instead of the man who could see a roster of patients, exercise and play with his children in the evening, Reyes is now forced to take life in slow motion.
"I work about 60% of what I used to," he said. "I nap twice a day … I spend a lot of time in bed."
Medicine is a career in which it is easy to overwork; there is always more to do before turning off the office lights, Josh Reyes said.
"But with COVID, the harder you push, the harder you get hit back," he said. "I've learned that it is better to go home than push through it and be sick for two days."
Spending too long on a computer, for example, leads to feeling concussed.
Rest is rarely restful, though, as Josh Reyes battles lassitude and a sense of being "drunk and hungover" in the same moment. Depression comes knocking when he feels stuck in the situation.
"There were days I hid from the world," he said.
Much of life in and out of his home had to be modified, as well.
Josh Reyes was a long-time board member for Walla Walla Valley Disability Network, a cherished role he's had to relinquish due to an inability to fulfill his duties, he said.
His children and wife have been left to figure out life at home while Josh Reyes spends hours and sometimes an entire day in bed.
Skiing as a family was off the table this winter and Reyes recently sold his Silverwood theme park tickets.
"I can't stand in the sun all day," he explained.
A 45-minute span of sledding with his kids last winter meant being too worn out to work. After water play with them in the yard this summer Josh Reyes paid dearly for the exertion by missing more work.
The exertion of teaching his son to do flips off the pool high dive forced Reyes to pull over the car an hour later and vomit on the side of the road.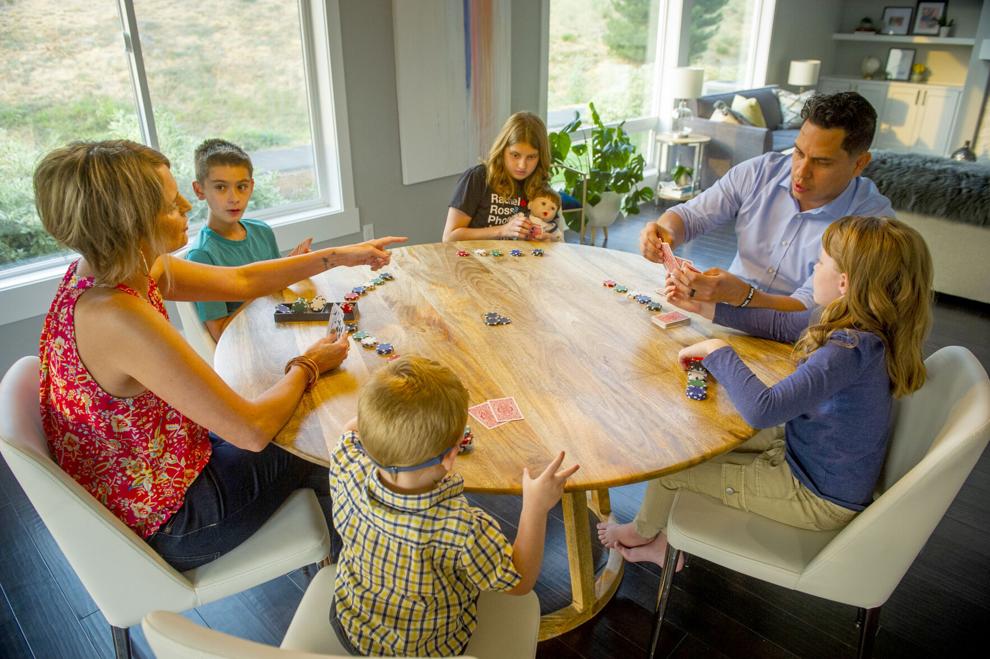 Such moments happen over and over again — even watching TV, taking a walk and sitting outside takes a toll. His evening routine usually consists of eating dinner and going to bed, Josh Reyes said.
Workouts are limited to lung capacity and how quickly all his symptoms descend.
These are the scenes Josh Reyes draws out when people think they are too young, too healthy or too invincible to worry about COVID-19.
"How much are you willing to gamble? How about the lives of those around you that you love. Vaccines are never 100% but they do decrease the risk and severity of COVID-19 which we know and have safety data from over 170 million individuals who have already been vaccinated," he wrote in his July 31 post that's been shared 87 times.
Vaccine and prayer
In April, Josh Reyes was at last able to get vaccinated. He wants others to do the same, not because of a mandate but to be kind to themselves, their family and their community. His social media message was not to invite pity but to bring awareness that the coronavirus is not the flu or cold some people are calling it, he said, "to see what COVID-19 can look like."
From his Facebook post and his research, Josh Reyes is hearing far more long-hauler stories than his own, both from people here and those in an online support group.
"Medicine itself is learning about this. If I had not had COVID, I wouldn't know that people are getting dismissed because of this, because of their symptoms," Josh Reyes said with a slight shake of his head.
"In medicine, if we can't find answers, we call it 'anxiety.'"
This is not that, he added.
Now, save for one child, his entire family has had COVID-19, giving the practitioner even more insight to what the virus can do. Being public about his lost health is his chance to be a familiar face to friends and others who are confused by the torrent of information, Josh Reyes said.
Many have let him know his story made the difference in making a vaccination decision, he added.
That such convincing is necessary is confusing, Josh Reyes added.
"I don't know how medicine became political," he said. "This is not violating anyone's rights. But everyone is frustrated, who to trust and who not to trust …"
As to that, Josh Reyes has never doubted his trust in God, he said.
In his own weakness, he's been forced to lean on his faith that all will be well. And in the absence of an ability to exercise like he used to, Josh Reyes has found time for deeper prayer with other men, he said.
"I started doing different things with different guys, it was my therapy and coping tool. I've developed rich relationships with men in prayer," he said.
"And that's an opportunity that would not have happened."
Josh Reyes said he believes in praying for healing, over and over, and he sees his own recovery coming with increasing strength and endurance. Early data suggest COVID-19 long haulers begin doing better after 12-14 months, but no one can yet say anything certain.
He doesn't believe God wanted him to have COVID-19, but is grateful for the lessons God has sent his way since last Dec. 27, Reyes added.
"When you are down, you get to see goodness a lot more."