In the foothills of the Blue Mountains, just down the road from Weston, Oregon, rancher Cheryl Costner has watched as the mountain range land where her cattle feed has grown brittle and dry under the ongoing drought.
Ranchers throughout the west with little viable pasture for their livestock are turning to hay markets to supplement their feed, driving up prices for a supply that has been likewise diminished by the combination of drought and June's heatwave. Now, some are worried about finding — and affording — enough to feed their animals.
"We're rather nervous," Costner said.
Costner's livestock typically have more than enough forage where they're located, but the pasture has dried up faster than almost ever before, Costner said in an interview. Costner, who owns Upper Dry Creek Ranch with her husband, Robert, typically expects the range to dry up toward the middle or end of July.
"We're not in any place that is going to have water coming out of a pipe," she said. "When mother nature quits with the rain, we're done with our moisture."
But this year, the grass dried up several weeks early at the beginning of July. Costner can recall only one other year in the last 17 where the grass became parched before the Fourth of July. When the pasture dries up, the grasses becomes less palatable to the livestock and can contain as little as half the protein, Costner said. That in turn can cause the livestock to quickly drop weight, whether they're older cows or young heifers that are nursing a calf while continuing to grow, she added.
"We've never felt like we have to supplement alfalfa (for the cows) in the past," Costner said. "This year we're considering it. We're already seeing some of the body condition on our cattle decreasing."
They may have to wean some of the calves early in order to prevent the heifers condition from deteriorating further, she added, which will in turn incur added costs to feed the calves.
Sheep are also particularly sensitive to diminished feed quality, especially when they're lactating. But the Costners have arranged to graze their sheep in a circle-irrigated field in Touchet, having struck a deal with a farmer there. While the field's cover crop, barley and vetch, has dried up under the drought conditions, the weeds — prickly lettuce, redroot pigweed and lamb's quarters — are still viable and highly nutritious. Between the weeds and barley heads, the lambs are staying well fed, Costner said.
But the Costners are looking at increased feed costs for their cows, if they can even order enough to get through the winter.
"I do have some hay ordered right now," she said. "But it's not enough."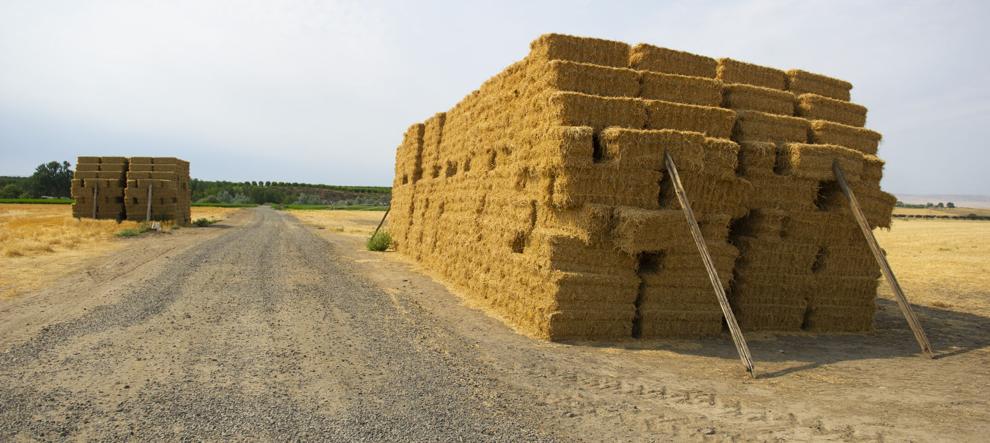 Hay supply also hit by drought, heat
On the other side of the equation, producers who grow grasses or legumes that get sold as hay have also been hit hard by the hot and dry year.
Hay is typically irrigated, said Tim DeRuwe, a grower in the Walla Walla Valley who sells hay to both local and export markets. Local farmers primarily rely on surface water to irrigate their crops, such as from the Walla Walla River or smaller creeks, added Craig Christensen, a Walla Walla Valley grower specializing in small bale hay who sells mostly to local buyers, often to be fed to horses.
"Those dried up probably six weeks earlier than they normally do," Christensen said.
Growers with water rights and access to wells can get through the added strain from the drought, DeRuwe added. But those water rights are tightly controlled and are usually only loosened when the state issues an emergency drought declaration, as Washington did July 14.
"If you're looking around, you'll see a lot of alfalfa fields that are burnt up already," DeRuwe said.
The heat-wave that struck the Pacific Northwest in June also left its mark on the hay industry. For legume varieties of hay such as alfalfa, producers want to cut the crop before it blooms, which increases the hay's fiber and decreases its protein, DeRuwe said.
"Some of our fields are looking pretty blue," DeRuwe said, referring to the light-purple blooms of the alfalfa plant as seen from a distance.
For the horse market, a bit of alalfa bloom isn't as big of a problem, Christensen said. The heat wave's impact on grass hay is hitting the small bale producer harder.
"It's not responding to the water or anything," he said. "It just gets too hot. We can't get it wet enough, and it just seems to not want to grow."
As Christensen looks to the years ahead, he worries that recovery could be a long process even under ideal conditions.
"The thing that scares me the most, the drought doesn't end the first day it rains," he said. "Recovery from a drought of this nature could take years."
Higher prices, instability
Local prices for large bales of hay — small bales are significantly more expensive — are shaping up to be around $210 a ton, DeRuwe said, around 20% more than the average year.
Increased prices are beneficial in the short-term for hay growers, but growers are worried that those higher prices and historic demand for their product may have disastrous long-term effects.
"It's good for the meantime, but it comes back to haunt us later on," DeRuwe said. "Get too pricey and export people in foreign countries can't afford to buy it. Greed isn't the best — what we need is a good average."
For his part, Christensen worries that some ranchers, both locally in the valley and across the U.S., will collapse under the strain of high prices and desiccated pasture forage.
"They can't afford to feed them all summer and all winter," Christensen said. "A lot of parts of the northwest and the U.S. in general, folks are getting rid of cattle because they can't afford them. Most of those ranchers aren't going to come back."