The last time the Army Corps of Engineers updated their guiding document, or master plan, for the land surrounding the Ice Harbor Dam near Burbank, Jimmy Carter had just been sworn in, Star Wars: A New Hope premiered in theatres, and Elvis was performing his final concerts.
Now, 44 years later, the plan is being updated, bringing its guidance in line with four decades of changes in regulations and requirements. Public comments, which Army Corps staff look to in order to understand how the public wants the land to be used for the next 20 years, are being accepted through Friday, July 30.
A draft Master Plan is available on the Army Corps of Engineers website at https://ubne.ws/3BOUyHd. In general, the updated guidance would shift the Army Corps' focus at the lands managed near Ice Harbor Dam away from more intensive use, irrigated and landscaped recreation areas, to sustainable use, such as wildlife areas with drought-tolerant native species.
"Many of the recreation areas were built with the idea or vision of creating an oasis in the desert," said Tri-Rivers Assistant Natural Resources Manager Greg Watson during a public presentation of the draft plan. "It was seen as if the resources were unlimited, and for a while, budgets were pretty good. But now the budgets are declining."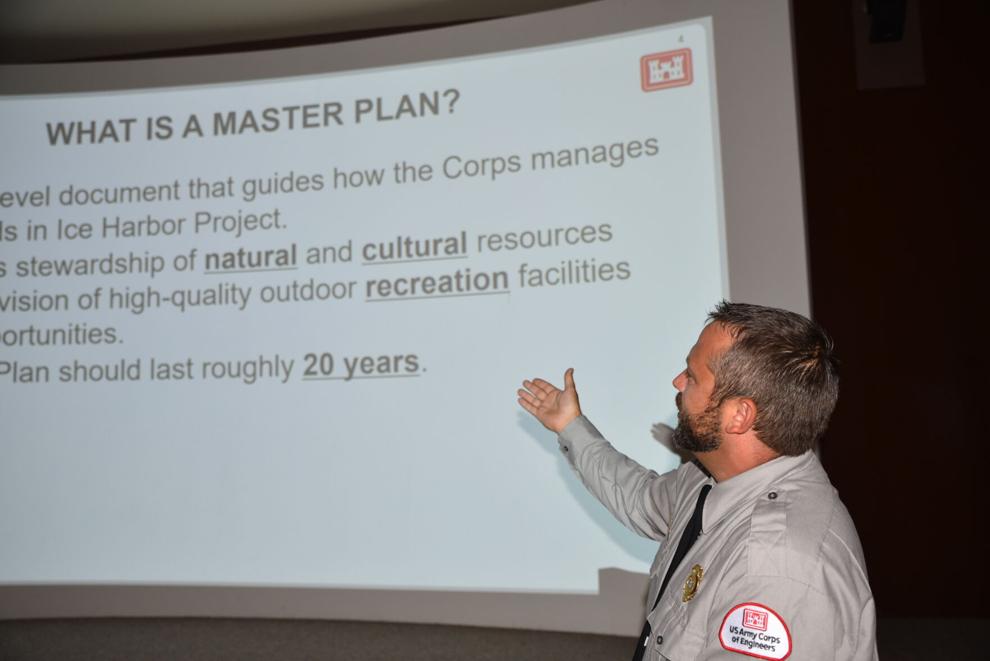 For instance, Russian olive, a thorny, silvery-green tree commonly found in eastern Washington, was a popular choice for the Corps when developing the land around Ice Harbor Dam, due to its drought-tolerance and thick canopy. Now, it's considered an invasive plant, due to its tendency to out-compete native vegetation, and it can be expensive to keep it from spreading.
The updated Master Plan calls for replacing the tree with plants native to the land around the dam, such as deer brush or sagebrush, Watson said.
The previous master plan, published in 1977, was far more granular than the 2021 draft, said Leigh Cranmer, master planner for the Corps, going so far as to specify how to prune the species of tree being planted in managed lands.
"Now they're meant to be kept around 30,000 foot level," Cranmer said. "That gives us more flexibility to handle changing budgets, changing priorities as things happen."
The new plan also won't make massive changes, she added, as the Ice Harbor Lock and Visiting Center is an existing project — instead, the new draft will change management strategies for existing resources, as well as reclassify lands and how they will be used going forward.
Some of the newer classification did not exist when the master plan was written in 1977, such as Environmentally Sensitive Areas, which can be protected against future development for either scientific, environmental or cultural reasons. All of the ESA designated areas created in the draft plan were classified for their cultural significance to native peoples.
That designation prevents the construction of roads, power lines or other future developments in those relatively small areas, but will not limit their access to the public, Cranmer added.
The updated plan also reflects changes in recreation over the last half century. For instance, when the previous plan was published, RVs entering the recreation lands around the dam were typically around 20-feet long, Watson said, and now can be as large as 40-feet. And visitors enjoy the area for a wider array of reasons, such as hiking, biking and horseback riding, he added.
The Army Corps of Engineers will continue to accept comments until Friday, and will consider incorporating those documents into the final published Master Plan, Cranmer said.
"These are public lands managed by the Corps for the public," she said. "We want to know what would be beneficial for the communities."