A regional study coming soon to the Walla Walla Valley will delve into something that child care workers in the area already know well — the local child care industry is in crisis.
It may have been a slow burn over many years, but those embers have whipped into a wildfire, exacerbated by the COVID-19 pandemic and ensuing economic crash.
A 2019 study from the Bipartisan Policy Center found that 33% of families making less than $50,000 in the U.S. found it difficult to pay for child care and made drastic budget adjustments, such as spending less on food and deferring rent, to afford the care.
In Washington state, families can expect the cost to sting even more. In particular, caring for infants — children younger than 1 — and toddlers aged 1-3 has become a hefty expense.
According to the Economic Policy Institute, Washington is one of 33 states where one year of infant care costs more than in-state college tuition — about $14,554 per year, or $1,213 per month, as of October 2020.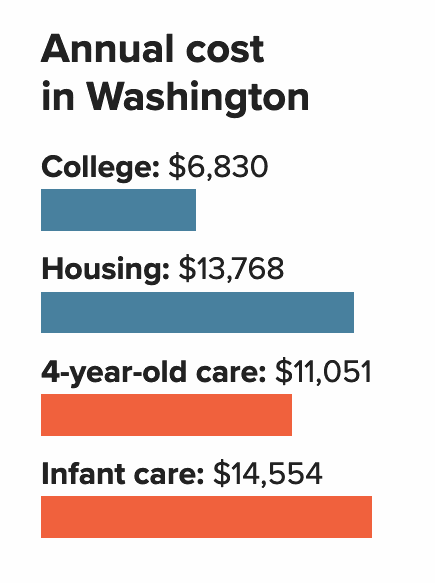 For two children under six, it could cost about $25,605 per year.
For a family making the median state income, relevant to their family size, child care alone can take more than 17% of the monthly budget.
In Columbia County, families can also expect to pay about 17% of their budget for one child's care, which amounts to about $766 per month for a median income family.
It's not all bad news, and the regional study, funded by a grant from the state Department of Commerce, should help point leaders in the right direction.
However, there is still the reality of right now — parents are struggling to care for their children in the current economic climate and providers are struggling to justify the cost.
Stakeholders such as the city of Walla Walla and Columbia County Health System are taking part in the study in hopes of not only helping parents now, but also opening up the door for success when the pandemic winds down.
Easy as 1-2-3?
Eiledon McClellan is the project coordinator for the Walla Walla Valley Early Learning Coalition, the group responsible for acquiring the Commerce grant and forthcoming study.
McClellan has spent the past year watching parents try to balance their spinning plates.
"I think it's really important to highlight that helping with child care (is) not just investing in the future workforce, but it's also our current work force," McClellan said. "Almost half our workforce are parents and they can't show up if we don't have child care."
While some parents may have adjusted well to having kids at home during the pandemic, it was likely harder for many others — especially parents of younger children.
"In our region, we're very short on infant and toddler child care," McClellan said. "It just doesn't pencil out to offer (that) child care. ... What incentives are there for providers to break even on that?"
That's one of the many questions the study might answer.
Local advocates such as McClellan believe there are many resources available to parents, but it's not always known to them. Child Care Aware of Washington has tools online to help direct people to child care providers and potential government financial assistance.
But even if private providers wanted to offer infant or toddler care in particular, it's not as easy as A-B-C.
At the Ark Day School in Walla Walla, there was a desire from parents for a toddler or infant room.
"The need was there," said Ark Day School Director Louise Johnson. "Looking at it from a financial standpoint ... we decided to go with (only toddlers)."
Rooms had to be retrofitted, staff needed training, lunch had to be provided. All of it added to an upfront cost that didn't pencil out.
But McClellan was able to help the Ark get an Early Learning Facilities grant from the Department of Commerce.
The Ark now has nine to 10 toddlers on any given day, just through word-of-mouth, after opening the toddler room in October.
Johnson said she's proud of her staff for stepping up and they're grateful the grant allowed them to do it.
"I'm thrilled with how it's working," Johnson said.
It's an example of an incentive working out as intended, but it still leaves one problem on the table.
"It's expensive," Johnson said. "To fund two teachers over there, it takes a lot."
Johnson said the state requirement is to have one adult available for every 10 elementary age children, or for every seven toddlers, or for every three infants. The staffing alone can nearly triple the overhead cost for licensed providers.
"We have to cover cost," Johnson said. "That's why not many people do infant care — it's not cost effective at all."

Johnson said some of their families are able to get state-sponsored assistance, but middle-class families are the ones she's seen struggling the most.
"That's where my passion is kind of going," Johnson said. "How do we serve those people that are middle-income, especially during (COVID-19) times, that are having struggles?"
Down to zero
"It's gone from bad to worse," said Paul Ihle with Columbia County Health System in Dayton.
As of this year, Columbia County will no longer have licensed daycare professionals, once the final provider retires in June, Ihle said.
Ihle is a social worker with Columbia County's sole health care provider. He's a retired teacher who was recruited to help the hospital system because of his extensive knowledge of families in the region.
When executives put out the word they were prioritizing child care as a recruitment strategy, specifically for people such as Dayton General Hospital employees, Ihle volunteered to look into it.
"Lots of young families, and access to child care is a make-or-break thing for them to work successfully in this community," Ihle said. He said the hospital has constantly been losing potential recruits to larger cities where child care is more available.
Ihle believes there is a chance this study could not only be completed by June, as McClellan hopes, but that it could result in a day care opening up this year.
And he said he thinks it doesn't have to be a Band-aid solution — he hopes the study reveals a long-term resolution for the region.
Adding it up
McClellan said some solutions that present themselves would be land-use tax credits for day cares, recruiting non-profits more regularly, working with large employers on flexible work policies and potentially a tax. However, throwing another tax at people doesn't need to be the first solution, she said.
Jennifer Beckmeyer, Walla Walla's Community Development Block Grant program coordinator, said the city's staff is seeing the study from an economic viewpoint.
"It's not to say, 'Now we're going to tax citizens to pay for it,' " she said. "That's not necessarily the response either ... even though we've seen some successful ballot measures around the country for early learning."
Beckmeyer said the city got involved two years ago with the National League of Cities in a project to see ways to make cities more family friendly, "looking at families with children as a communitywide need."
"And not just as a specific target sector of our community," she said. "... It's a multiple-generation issue that we're trying to address."
There are solutions already surfacing in Walla Walla, she added. The city's partnership with Mercy Corps to give micro-loans to small businesses has resulted in some licensed day cares opening up.
But one big option turned into somewhat of a non-factor this year because of COVID-19, Beckmeyer said.
The Walla Walla School District's Center for Children and Families was supposed to be fully operational this school year, providing early learning for preschoolers.
"That center really hasn't seen its full potential even tapped yet," Beckmeyer said, because the district had throttle operations during the pandemic.
The nanny equation
One solution, of course, is the method likely as old as humanity itself — babysitting.
Ihle said there are many people who take part in under-the-table child care, whether it's a grandma, or a neighbor or a friend. But some people don't have those networks available to them, he said.
For example, one Dayton father Ihle is familiar with had just gone through a divorce and was now raising four children on his own. He had no immediate family members or friends who were able to help him with all four.
The father was eligible for a state-sponsored subsidy, but it's useless now that there are no licensed providers available to him.
Beckmeyer said families in such situations may have been able to pay somebody in cash maybe even 10 years ago, but that's not the case anymore.
She said average wages have been too stagnant to keep up with inflation in child care — something she said closely mirrors the housing crisis where "the middle" is more of a gap.
Johnson said she's encountered many emotional parents wondering how they can afford the Ark's services, even with two working adults in the home.
"They say, 'We love your center, we want our kids to be there,' but they can't afford it, and I get that," Johnson said. "It's been really difficult, especially now."
The Ark has some scholarships available and also works closely with families to find non-profit and state assistance, but she said middle-class families aren't qualifying in some cases.
The inflation comes not just from natural economic inflation, but in tandem with ever-changing state regulations, Ihle said.
While Ihle said he knows the regulations are not evil in their intent, he said they often come without an explanation for how providers should pay, for example, for a new fire exit or a new playground. The bill gets passed on to the parents, in most cases.
Solving for 'why?'
"People oftentimes don't see the gains that we have made as a community," Beckmeyer said. "Really, part of this study is going to be: What resources do we have currently that people haven't taken advantage of?"
That, McClellan echoed, is the aim of this study.
The beauty of it all, McClellan said, is that opening the door for more people to afford child care provides for enrichment of children by bringing in multiple socioeconomic statuses into one place.
The coalition was encouraged by the Commerce grant — McClellan, Beckmeyer and Ihle were optimistic that some goals could be achieved this year even if things don't return to "normal" soon.
Meanwhile, parents have to make do. Beckmeyer concluded her interview as many interviewees have this year — with a child making noise in the background.
As 2021 begins, some parents may feel that they are also in the background, pleading for help.