It's been a long haul for Walla Walla's Civil Air Patrol Twin W Composite Squadron, which became homeless last fall after vacating the former Walla Walla Regional Airport terminal.
The 501(c)(3) nonprofit agency alit on April 16 at its new meeting facility at 199 W Lear Ave., a Port of Walla Walla property at the north end of A Street just west of the UPS distribution center.
The squadron vacated its old site on Oct. 17, 2022, so the dingy, moldy, decrepit World War II-era building could undergo asbestos abatement and demolition.
They temporarily met across A Street in a Port of Walla Walla conference room.
Walla Walla Port commissioners and the Squadron team worked to find a more permanent solution, said CAP Cmdr. Capt. Steve Heinzman.
They presented the Port with a list of items/work they wanted to see accomplished in the new facility, which hadn't been occupied for many years.
"They were extremely generous and provided nearly all of our requested work. I cannot express how grateful we are to the Port and the airport Manager Jennifer Skogland for the work accomplished. In fact in some areas they exceeded what we expected or asked for."
As they prepared the newly leased facility, Home Depot came through with bright white paint, which now covers surfaces in the conference and communications/computer lab rooms, a bathroom and abbreviated kitchenette.
"We are not sure what the previous uses of the hangar were but I believe that there was a flight school there for a while," Heinzman said. Many refer to it as "the barrel hangar." "Our move to this facility is, hopefully, long term."
They have applied to use Mobile Beacon. The affordable Wifi hotspot system partners with an organization that provides free 4G mobile hotspots to nonprofits for a small administrative fee and a $10 per month user fee, Heinzman said.
They expect to be up and running soon. Computers are used for cadet/senior training, tracking inventory and file maintenance. Having internet access is important for the cadets and seniors, he said.
The new meeting rooms sport heat and air conditioning, upgrades from their former space, said Heinzman and former Squadron Cmdr. Lt. Col. Ted Hanson.
They deep-cleaned the carpet and are slowly filtering through items stashed in their store room at the south end.
The west wall of the meeting space features large windows that reveal a commodious hangar in which smaller planes come and go.
The Squadron has participated in the Wreaths Across America benefit for some years and had a successful campaign in 2022.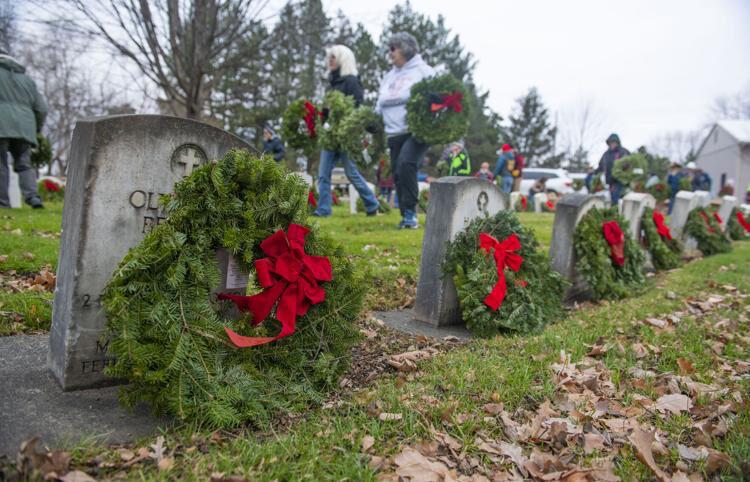 It is the group's sole fundraiser. They're also seeking corporate sponsorships and other donations to keep it airborne.
In 2022, "We sold almost 900 wreaths, were No. 6 in the state and No. 1 among all participating squadrons in Washington Wing for the second year in a row," Heinzman said.
During bone-chilling weekends in October and November they raised $13,500, which pays for the wreaths. The $5 they earned per wreath raised $4,500 that went into the squadron coffer.
"People in Walla Walla are very generous," Hanson said.
When placed on military headstones in the Mountain View and Fort Walla Walla Military cemeteries on a Saturday in mid-December, especially after it's snowed, the evergreen circlets are a beautiful sight, he said.
With volunteers and passersby pitching in, it took maybe 15 minutes
to place more than 900 red bow-festooned wreaths on headstones in Mountain View.
Squadron meetings are 6:30 p.m. Monday nights. Cadets train in teamwork, moral leadership, aerospace education, technical skills to support emergency services and military history and customs.
Cadets spend a minimum of 10 months in meetings. They are not limited to how much time they spend on progress in the program. New cadets are needed in the squadron. Youths ages 12-18 are eligible.
"Our purpose is to help kids be good and productive citizens. Our flight program is designed to train future pilots for the military and civilian sectors," Heinzman said.
"No one is obligated to join the military because of membership in Civil Air Patrol. However, there are benefits for completing the program." Approximately 5% of Air Force Academy cadets are or were members of CAP, he said.
In Washington Wing this year more than four cadets have received appointments to service academies. Most recently Twin W had a cadet accepted to all four academies and he chose the Air Force.
Twin W is always looking for new senior members with flying skills who want to work with kids and to serve their country. CAP flies 90% of all search and rescue missions in the U.S.
It has a drone program also used for search and rescue.
Washington Wing has at least one drone or sUAV/small unmanned aerial vehicles that has been deployed at least once for search and rescue.
In addition to senior members
"People with a desire to work with today's youth is the most important skill we need," Heinzman said.
Current leadership is made of retired personnel who put in many hours making the program successful. It's critical to have time to work the program, he said.
"Dedication is another important skill we would like to recruit." Three new senior members have been recruited: a pilot who will help the flying program, a former member of the Army and National Guard who is interested in the sUAV program and a former cadet and Air Force noncommissioned officer.
They're currently speaking with a prospective member interested in working in the character development area of the Chaplain Corps.
Heinzman said they encourage parents to join and support their cadets and the squadron.
Cadets and senior members have opportunities to participate in many training activities in the Wing and nationally.
Twin W is in a Wing with more than 30 squadrons around the state.
Washington Wing's WAMA/Washington All-Mission Academy training facility in Ephrata holds monthly training in CAP primary missions.
The annual summer encampment in July immerses cadets in the CAP program run by cadets with adult supervision.
The Air Force provides CAP's vehicles, radios and aircraft.
Twin W participates in the annual DART/Disaster Airlift Relief Training exercise, Heinzman said. The exercise is designed to practice distribution of food, medicine or other supplies in the event of a natural or other type of disaster. Locally they primarily provide manpower during the exercise.
Twin W Squadron is one of about 600 across the country.
"CAP was the original Homeland Security. CAP flew anti-submarine patrols, primarily on the East Coast, to spot and report German submarine activity," Heinzman said.
"After a period of time the Germans left the East Coast due to the CAP aircraft effectiveness in spotting and directing responding military ships and planes to deal with the subs. CAP has been credited with sinking German submarines," he said.
CAP was founded on Dec. 1, 1941. The Japanese bombed Pearl Harbor on Dec. 7. CAP became a congressionally mandated auxiliary of the U.S. Air Force in 1947.
CAP works with cadets, in search-and-rescue and disaster relief missions and includes an increasing number of homeland security operations and exercises.
It also performs counter drug reconnaissance missions at the request of law enforcement agencies and can do radiological monitoring and damage assessment, according to its website.
Through national encampments, a college and flight training scholarship program and the International Air Cadet Exchange, CAP cadets broaden their horizons, learn to assume responsibility, feel self-confidence and set goals for their lives.
Find out more about Twin W Composite Squadron at gocivilairpatrol.com or facebook.com/twinwcap/.