Early results are in for the Tuesday, Aug. 2, primary election, and a number of crowded races in Walla Walla County and at the state level are starting to narrow to the two finalists who will compete in the November general election.
In Washington state, the two candidates who receive the most votes in a given race will move on to the general election, regardless of party affiliation.
Races with two or fewer candidates are still included on the primary election ballots, but no candidates are eliminated by the results of Tuesday's election.
Due to Washington's vote-by-mail system, many votes submitted before the 8 p.m. cutoff have not been counted, and Tuesday's results are not final.
For races in Walla Walla County, the next round of votes is expected to drop Friday, Aug. 5, by 4 p.m., according to local elections officials.
Among local races, only two had more than two candidates: a three-way race for State Representative Position 1 of the 16th Legislative District, and a four-way race for an open seat on the Walla Walla County Board of Commissioners.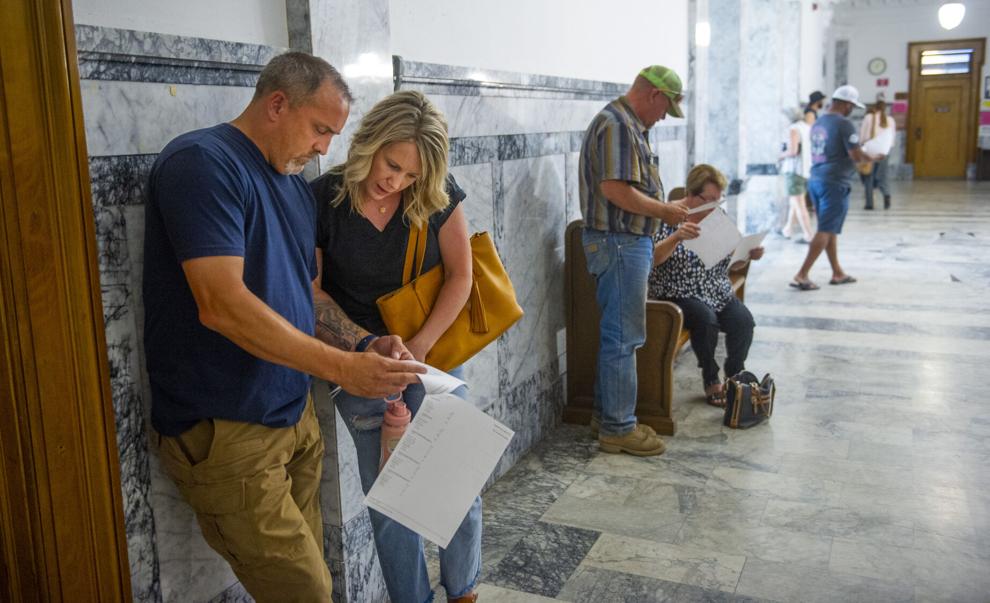 In the race for Walla Walla County commissioner District 3, a seat currently occupied by outgoing Commissioner Greg Tompkins, Touchet-area farmer and volunteer firefighter Darren Goble got the most votes, closely followed by Walla Walla Police Department spokesperson Sgt. Gunner Fulmer.
The gap between the two candidates was just over 30 votes, and both are within striking distance of the third- and fourth-place candidates, educator John Haid, the sole Democrat to enter the race for a seat in a county that votes reliably Republican, and Burbank realtor Wayne Langford.
The top-two vote getters likely won't be known until at least Friday, a point that both Goble and Fulmer were quick to acknowledge Tuesday night.
Only voters who live within District 3 could vote on this seat in the primary election, though the final two candidates will face a county-wide general election in November.
In the race to represent the 16th Legislative District in the Washington state Legislature, Incumbent Rep. Mark Klicker, R-Walla Walla, was well ahead of the pack, earning around 65.6% of the vote as of Tuesday night, while his Democratic challenger Jeff Strickler, a Walla Walla-based realtor, received 31% of the vote.
Walla Wallan Susan Kay Schiller, who is running as a member of the Peace and Freedom Party and previously ran unsuccessfully three times for a position on the Walla Walla City Council, appears to have been soundly defeated in her first run for a state-level position. As of Tuesday night, she had received around 3.3% of the vote.
A number of non-local races were also competitive, including a crowded race for the U.S. Senate seat currently held by Rep. Patty Murray, D-Wash, currently led by Murray and Republican Tiffany Smiley, and a seat in Congress held by incumbent Rep. Cathy McMorris Rodgers, R-Wash, currently led by Rodgers and Democrat Natasha Hill.
In the closely watched state-level race for Washington Secretary of State, the only state race in which a Republican has served in recent years but which Gov. Jay Inslee filled with Democrat Steve Hobbs late last year, Hobbs and nonpartisan candidate Julie Anderson led the race. However, Anderson was followed closely by Republican Bob Hagglund, with a narrow margin that could change in the coming weeks as votes trickle in.
As of Tuesday night, 24.61% of registered voters from Walla Walla and 46.15% of registered voters in Columbia had submitted their ballots.
In the 2020 primary, by the time results were certified, nearly 57% of Walla Walla County voters and over 65% of Columbia County voters had submitted their ballots.
If elections officials find any issues with ballots, including because they were unsigned or their signatures did not match the state voter database, those voters will be contacted by mail, email or by phone if that information was included in a voter's registration.
As of Tuesday night, 1.76% of Walla Walla County ballots had been challenged, according to data from the office of the Washington Secretary of State, while a vanishingly small 0.23% of Columbia County ballots had been challenged. Voters must return corrected ballots no later than 4 p.m. Aug. 15.
The county will certify its results on Aug. 16.