People have lived in the Walla Walla Valley for centuries. Just a few feet below the surface, the evidence of their brief lives linger long after they have gone.
So, when local governments or organizations plan to build or rebuild a project, such as with the ongoing road work in Walla Walla, one of the first people called to the site is often Stephanie O'Brien, an archaeologist with the civil engineering firm Anderson Perry. If it's older than 50 years, it falls under O'Brien's jurisdiction.
Much of what O'Brien and her team at Anderson Perry's cultural resources department discover on any given project is the detritus of earlier eras, perhaps insignificant to the general public but another small piece of unwritten history.
At an undisclosed site near town where a private developer is doing its due diligence before construction, O'Brien and company are unearthing deposits of lithic debitage, the remnant shards that were struck away from a piece of flint, leaving behind a knife, arrowhead or other tool.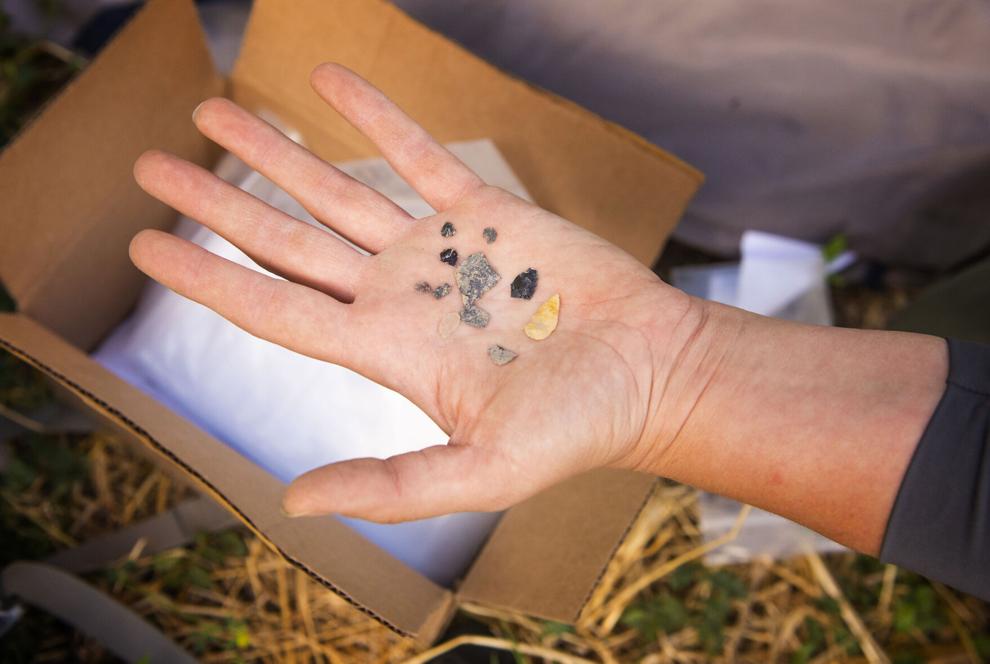 In 2017, Walla Walla lifted a stretch of sidewalk on Rose Street, only to find century-old piles of garbage directly beneath the sidewalk, with ceramic from China, glass bottles from London and oyster shells from Olympia.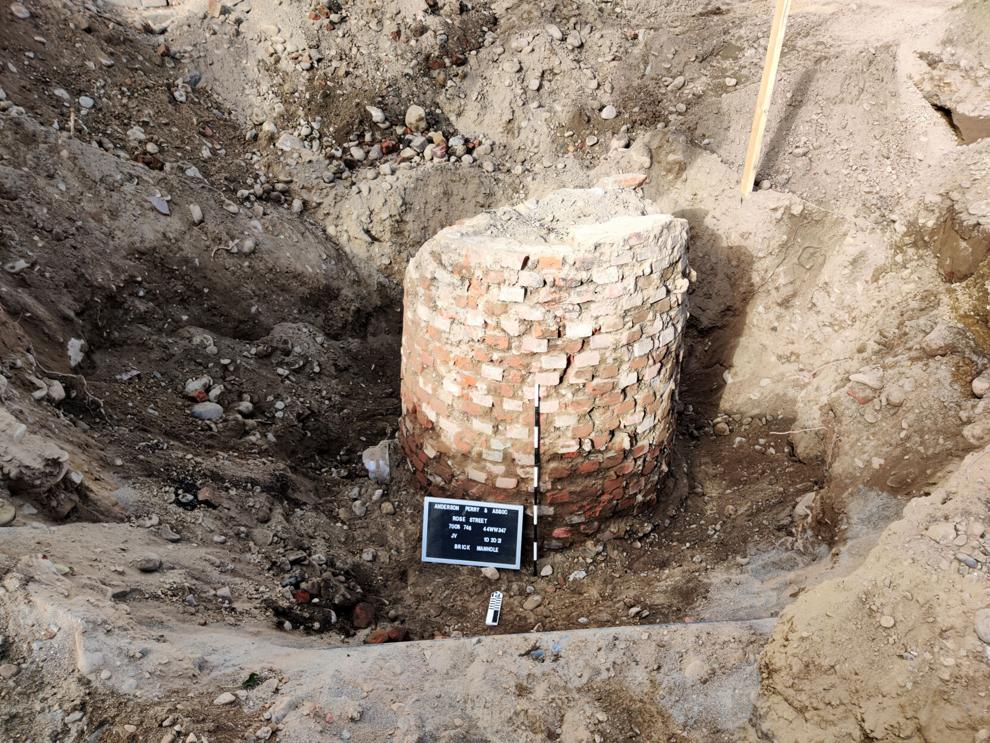 While the garbage of native or colonial peoples might not seem significant, a dead man's trash is an archaeologist's treasure. Much of what today is known about ancient civilizations — that wasn't contemporaneously carved into a plinth or painted in hieroglyphs — comes from rooting around in long-buried waste.
The remnant shards weren't historically significant enough to put a pause on construction, not being associated with a specific person or event, so the team documented their finds and the project moved on. But for O'Brien, some of her favorite finds are those markers of human consumption discarded long ago, the little relics of lives being lived.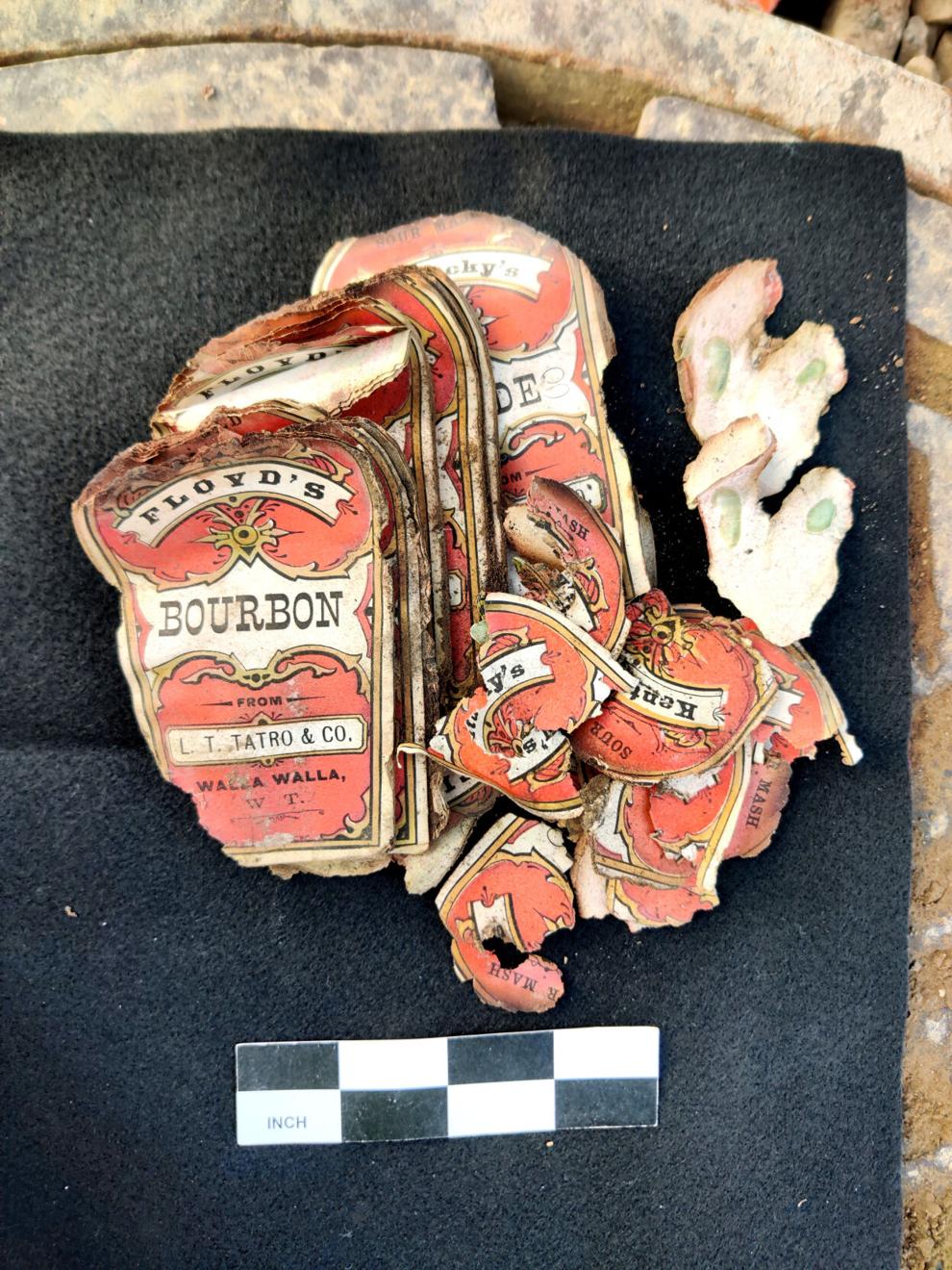 The mountains of half shells tell of the local candy shop that used to sell oysters for a penny a piece, brought from Olympia by train. The bones of wild game mixed in with that of pigs and cattle show how late the people of the frontier town relied heavily on hunting to supplement their diets. The fragments of Chinese pottery remind the archaeologists that, though it has today largely been forgotten, Walla Walla's Chinatown was once vibrant.
In a town that was once the largest west of Minneapolis and north of San Francisco, there isn't a lot of ground in Walla Walla that doesn't contain objects older than 50 years. However, laws protecting historic artifacts were once much more lax than they are today, and some of that history has been damaged, if not destroyed.
As the city this summer started removing pavement to work on a number of roads downtown, the team at Anderson Perry located a cistern that may have dated to the 1800s, but which had previously been disturbed as the city installed utilities decades ago.
These days, any project using state or federal funds and many more besides must go through a rigorous procedure to catalogue and protect historic artifacts that may have once been simply bulldozed or paved over. As these regulations have progressed, so too has the industry in which O'Brien today works: cultural resource management.
Discovering a future in the past
Like many professionals who aren't astronauts or firefighters, O'Brien didn't grow up with the dream of becoming an archaeologist. Originally a student of British literature in college, she took an introduction to cultural anthropology class and unexpectedly fell in love with the field.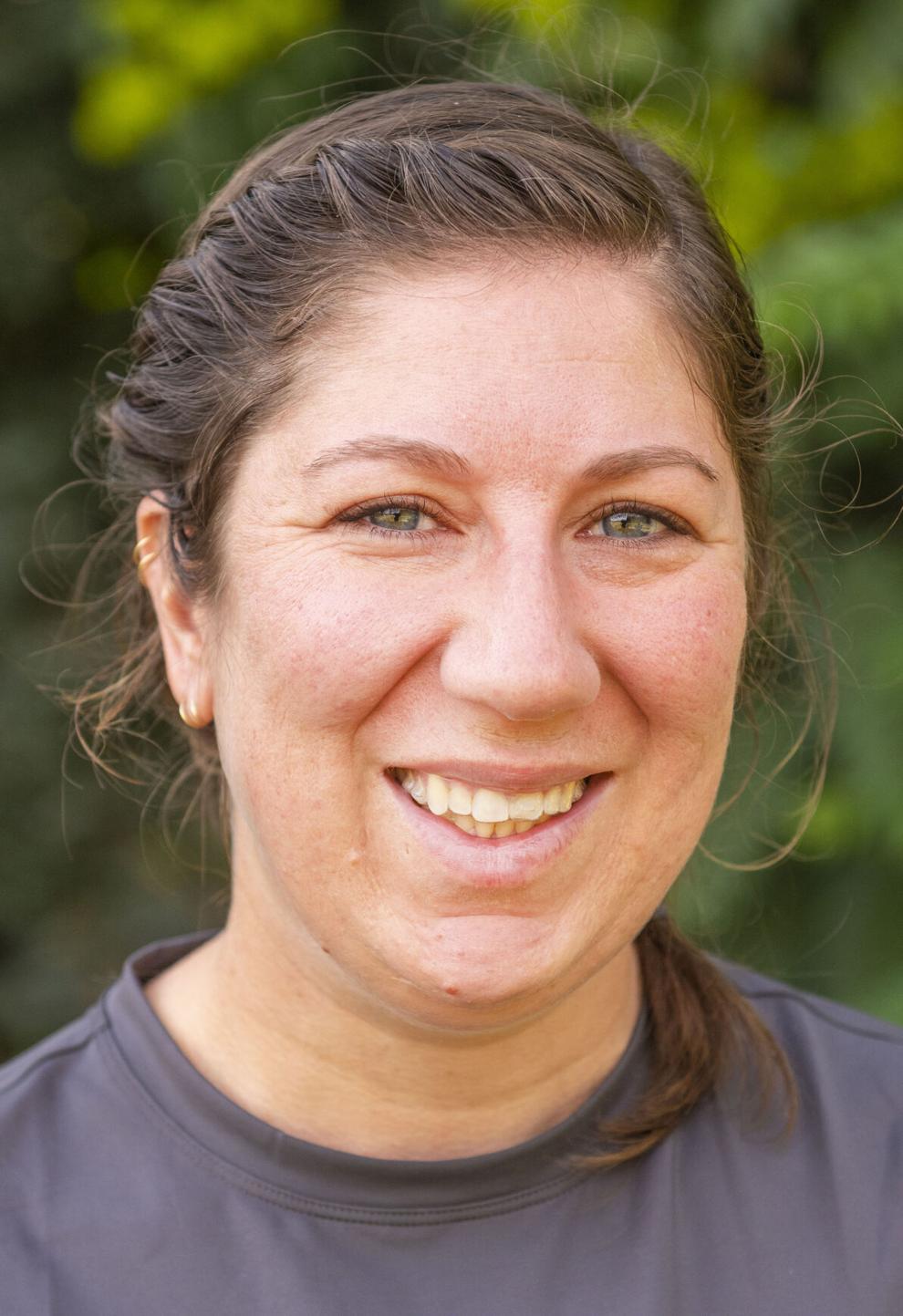 She began leaning more towards archaeology than cultural anthropology, drawn towards the prospects for travel and for diverse work.
"(Cultural resource management) is really field work-driven," O'Brien said. "Your whole existence is to permit these projects so they can move forward, so you have to strategize and go through all the field work, and then write it all up.
"If it's a really big project, you might work on it for a bit, but a lot of time, it's many very small projects. So it's kind of a constant cycle of going through fieldwork and research, which keeps it really interesting."
During her senior year, she was invited by a professor to do archaeological work in Benin, a West African country that was once home to some of the most active slave trading ports, uncovering the buried remains of that era.
"I was hooked," O'Brien said.
After college, she worked for a time with the U.S. Forest Service in Utah, examining sites from the native Fremont people, and once finding what turned out to be the scene of an 80-year-old murder where a farmhand had killed the property owner and then burned down the lot.
She attended graduate school at the University of Chicago, continuing to do work in countries like Benin and Senegal, but realized after she was done with her education that she wasn't interested in becoming a teacher, the typical next step after getting a graduate degree in her field.
"So I went into what we call cultural resource management, which is private sector archaeology," O'Brien said. "Companies, either as part of engineering companies, or independent archaeology companies, will work with clients to get construction projects put through state and federal laws."
Her first foray into the private sector of archaeology was a relatively short-lived stint with a Utah company that helped get the permitting required for oil and gas projects.
"I decided I didn't really want to work within that area anymore," O'Brien said.
She took another short-term job with the Burns Paiute Tribe in a region southern Oregon that today is rather desolate, but which was once lush marshlands and could sustain a significant native population.
Not long after, however, a job opened up at Anderson Perry, which at the time didn't have a department dedicated to cultural resource management. O'Brien applied and was offered a job, helping to start what is now a team of three full-time staff, one part-timer and a fluctuating number of archaeological technicians.
After four years working with the company in La Grande, Oregon, she moved to the firm's office just a block away from downtown Walla Walla, where she has worked since 2018.
Many waters, many histories
While Anderson Perry's cultural resource management department is sometimes sent as far afield as the eastern Cascades or even more rarely to the coast, much of their work takes place in the Walla Walla Valley.
Walla Walla itself is one of the oldest towns of the western United States, and the region was home to Native Americans for many centuries prior. Within that patina of history lies a greater concentration of artifacts than most in the Pacific Northwest, O'Brien said.
"It's an older town than a lot of the towns that we encounter in Eastern Oregon and Washington, just because we had a military presence here really early on, and you obviously had the Whitman mission," O'Brien said.
"So every time there's a construction project here ends up being that we encounter something, which is pretty unique and pretty amazing. And it's definitely fun to work within that realm."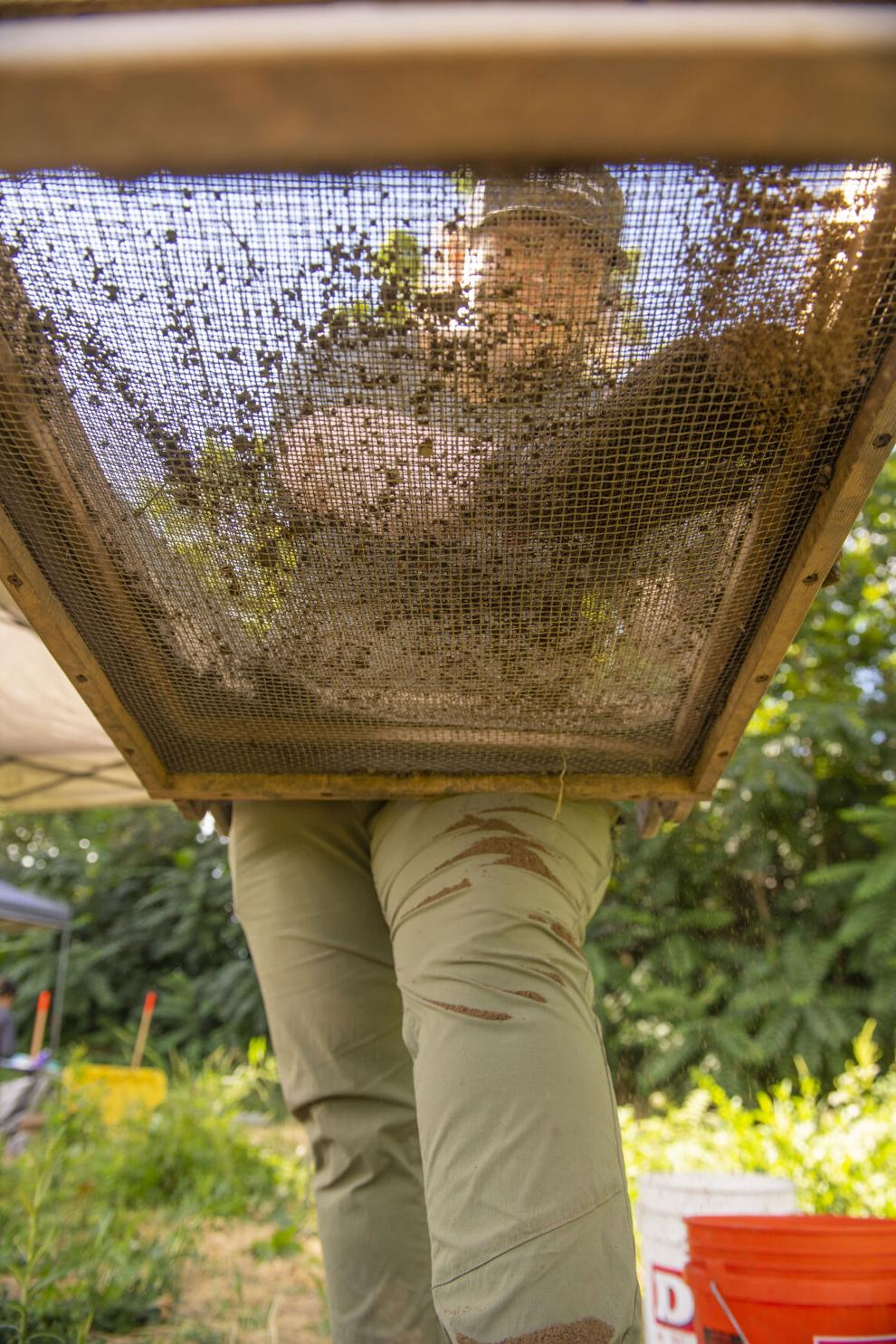 O'Brien and the team are typically called to a site before construction begins, and they start by consulting with the Washington State Department of Archaeology and Historic Preservation and with local tribal authorities, in this case the Confederated Tribes of the Umatilla Indian Reservation.
"What is in the area?" O'Brien asked. "What are their expectations for us, or for the city really, to complete prior to construction?"
Often those stakeholders recommend a survey, which might include digging test pits along the site and using screens to literally sift through the chunk of earth.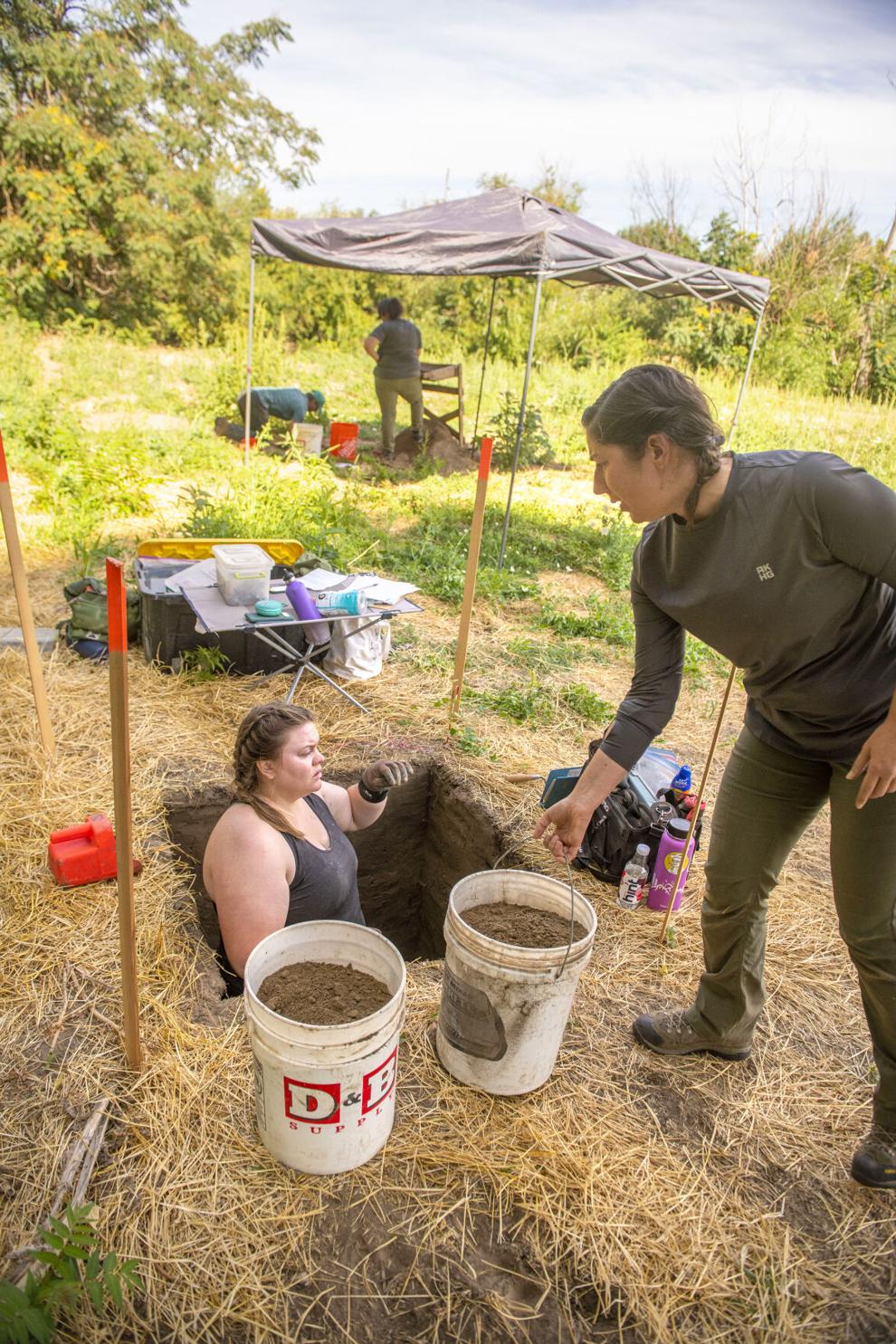 Not everything can be checked prior to the beginning of construction, however. O'Brien and her team couldn't take a shovel to Poplar Street before work begin on that roadway earlier this summer, so they came up with a plan for what they will do once the pavement has been removed and execute the strategy in stages. Having all that planning done ahead of time is critical to avoid delaying the project, so construction crews can work elsewhere as the archaeologists do their surveys and catalogue unexpected finds.
"The worst thing is if you find stuff during construction that can really throw a wrench in things, so we always try to structure our work so that we can keep construction moving and give them somewhere else to work while we handle it," O'Brien said.
While much of what gets unearthed won't cause delays to a project or trigger protracted preservation, there are a number of criteria from the National Park Service that O'Brien's team uses to determine if additional work is required.
Such a find has to be tied to a significant person, such as Marcus Whitman or Piupiumaksmaks, a significant event, such as a section of the Oregon Trail, or otherwise provide information on a subject that is currently poorly understood. These finds also have to have integrity, meaning that, unlike the cistern under the rehabilitated Walla Walla roads, it hasn't been disturbed or moved.
Due to centuries of neglect and disuse, many objects lack historical integrity and no longer have archaeological value, O'Brien said. This is just one reason why it is now so highly frowned upon in the archaeological world to take a souvenir from a site, as was long ago not a terribly uncommon practice.
"There's definitely a code of ethics within archaeology," she said. "And, you know, the act of taking items off of a site and bringing it home is really disruptive to the site.
"'We've had lots of situations where somebody will approach us and say, 'Oh, well, my grandfather collected all these things off the Columbia River, can you look at that them?'" she continued. "And it's like, there's often not anything we can say, because we don't know where they came from, and the historical value of this item is on the site."
If artifacts found on a work site do meet the criteria for historical preservation, though, the team begins working with state, tribes and other parties to come up with a plan for how development can continue. Perhaps it's possible to avoid disturbing the site, or if it isn't possible to mitigate impact, perhaps things can be catalogued and the historic significance preserved in another way.
A more complicated process can be launched by the discovery of human remains. Different procedures apply depending on whether the land is privately or publicly owned. The federally-owned U.S. Army Corps of Engineers property in the Walla Walla area, for instance, follows a specific set of guidelines for dealing with cultural artifacts and remains.
"It's the same sort of mitigation process, though: can we avoid it? Can we leave it in place? If it does have to be impacted, how do we work with that?" O'Brien said. "And often, in those cases, the remains are handed back off to the tribe for them to repatriate somewhere else."
With all of these projects, particularly as Walla Walla undergoes major redevelopment to modernize its roads, archaeologists like O'Brien are kept busy by the region's rich layers of history. As residents walk the streets, or perhaps spot a construction site, they might stop and consider: what is buried there, just beneath the surface?