By the Walla Walla Union-Bulletin
Walla Walla Valley leaders are still reeling from news out of Gov. Jay Inlee's office Tuesday regarding a new, two-phased and regionalized system for reopening the economy during this COVID-19 pandemic.
Inslee's goal was to ultimately make it easier for communities to progress to more reopenings, but locals are concerned about being lumped into a "South Central" region with much larger counties experiencing significant virus outbreaks including Yakima and Benton counties.
The South Central region includes Walla Walla, Columbia, Benton, Franklin, Kittitas, and Yakima counties. Yakima, Benton and Franklin counties were three of the last counties to advance out of Inslee's initial Phase 1.
Now counties within a region will depend on each other to meet a set of health metrics to move into Phase 2 and remain there.
"No county can move forward unless the entire region moves forward," said Washington State Department of Health spokeswoman Ginny Streeter.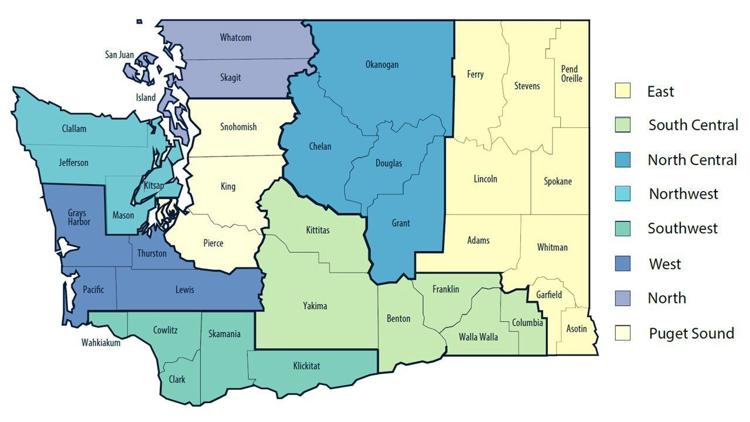 Immediate impacts
Starting Monday, every county in Washington state will be in the new Phase 1, which prohibits social gatherings indoors, including dining. It limits indoor capacity to 25% at retail outlets, worship services and locations that provide personal and professional services where remote work isn't available, according to the announcement.
The new Phase 1 isn't a step back for most counties but sets current restrictions as the bar, with progress to Phase 2 restricted until all counties in a region meet certain requirements.
For instance, Phase 1 will allow for indoor fitness and outdoor entertainment, both previously prohibited state-wide but now permitted with restrictions. (See graph for more information on phases.)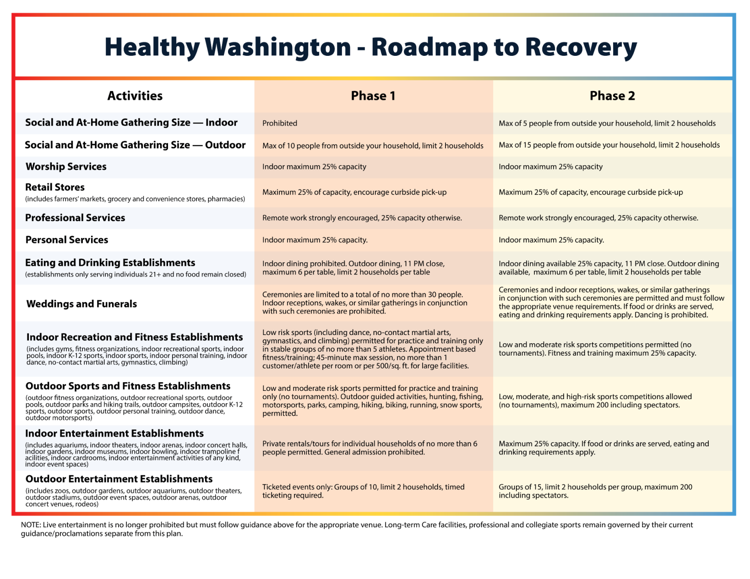 To move into Phase 2, all counties in a region must have:
A decreasing trend in the two-week rate of COVID-19 cases per 100,000 people.
A decreasing trend in the two-week rate of new COVID-19 hospital admission rates per 100,000 people.
An intensive care unit occupancy of less than 90%.
A COVID-19 test positivity rate of less than 10%.
Columbia County has a positive testing rate of almost 17% and 337 new cases per 100,000 over two weeks.
Benton County has a positivity rate of 19% and a two-week upward trend of 613 new cases per 100,000.
Yakima County is at a 36% positivity rate with an upward trend of 940 new cases per 100,000 over two weeks.
Data on hospital admission rates and ICU occupancy hasn't been as easy to find online.
Inslee said the final metrics for regions will be calculated on Friday and will be effective Monday.
Dr. Christopher Hall, chief medical officer for Providence St. Mary Medical Center, said Wednesday he has some concern over being tied to nearby counties with higher COVID-19 case rates.
Thanks to strong partnerships in this community and knowledgeable people in place, Walla Walla County is probably the furthest Washington county along in vaccination efforts, Hall said.
So far that's included getting hospital personnel, emergency medical responders and dental office staff vaccinated, he said.
As of Wednesday, more than 1,300 vaccine shots had been given, which includes second doses for some people, Hall said.
Next on the list is helping school districts engineer a safe return to in-person classes by providing testing and other measures, he said.
That effort will be followed by moving farther out into groups most medically at risk, such as the very elderly in congregate care situations, and situationally at risk, such as grocery store employees.
Added up, that means Walla Walla County is doing better at targeting COVID-19 prevention than some areas of the state, Hall said.
The hospital leader said he knows Inslee had input from health experts in designing the two-phased approach, but to fully understand the plan and its impact on the community here will take more study from local health authorities.
The Walla Walla County's Department of Community Health and Walla Walla County commissioners had no comment. Walla Walla City Manager Nabiel Shawa was not reached by press time.
Valley business concerns
For Walla Walla Valley business leaders, the reaction was less than enthusiastic — "disappointed" was a word they echoed.
Walla Walla Valley Chamber of Commerce CEO Kyle Tarbet said he has seen several state business organizations unsuccessfully try to lobby Inslee's office.
Tarbet said there has been little to no communication from the governor to business organizations such as the Washington Hospitality Association, the Association of Washington Businesses and the Washington Chamber of Commerce.
Niki Reading, a spokesperson for the Hospitality Association, said Tuesday evening's announcement "is not a roadmap to recovery. It is a roadmap to a near-complete collapse of Main Street neighborhood restaurants and hospitality businesses."
AWB President Kris Johnson called the plan "an incomplete map at best," according to a release Tuesday.
Tarbet said he was not confident about a swift economic recovery for Walla Walla and Columbia counties now that they were tied to the medical success of Yakima, Benton and Franklin counties, three areas that saw staggering hospitalization numbers in 2020.
He said one of his main concerns was the close communication of local agencies and organizations in the Walla Walla Valley, which he applauded, suddenly potentially taking a backseat.
"Now we're lumped into a region where there's no elected official that's accountable for this," Tarbet said. "There's no regional administration that we can reach out to for help or coordination in our guidance. It's frustrating now to try to change what we've been doing. Do we have to coordinate with these other counties now? I'm just not really sure what we need to be doing."
Tarbet said trust toward Inslee among business owners would be much greater if business leaders were allowed to sit at the decision-making table or even to just get more advanced notice when changes are coming.
Downtown Walla Walla Foundation Executive Director Kathryn Witherington said there were actually a few bright spots in the new Phase 1 that give places like gyms and hair salons some easier rules that could allow for some increased business.
But, Witherington noted, it could be a slow recovery, on top of the fact that it's the typically slow winter season in the aftermath of a brutal economic crisis.
"For most of our businesses, nothing changes from where they currently are," Witherington said. "It is contingent on our health region, which is a concern … That is something that I hope will go well."
Witherington said she was also hopeful about new Paycheck Protection Program loans from the U.S. Small Business Administration, which are much larger in the most recent congressional relief bill compared to the original loans approved from earlier in 2020.
Witherington emphasized shopping local and staying positive during the reopening plan.
"The focus will continue to remain on what we can do as a community to support our friends and neighbors throughout this incredibly challenging time," Witherington said.
Low-risk sports are permitted in small groups for practice and training, and appointment-based fitness and training for larger facilities.
Walla Walla YMCA CEO Karen Hedine announced fitness centers would open Monday with restrictions. Only pools at the YMCA had been open during Inslee's recent shutdown.
Reservations and masks will be required and YMCA members must reserve their place in the fitness center at least 45 minutes in advance, she said.
Hedine commended the governor's plan, "Healthy Washington–Roadmap to Recovery."
"We support the governor's plans to get this community as healthy as possible as soon as possible," Hedine said.
"This goes along with our mission of social responsibility. I believe the governor has taken a nice step forward to help get people back in a fitness regimen. It's been said mental health improves with physical health, so it's good that he's opening fitness centers with strong regulations."
Jazzercise Walla Walla owner Janet Byerly suspects they will have to remain closed for a while longer.
"What are we going to do? I don't know," Bylerly said. "It's a little bit vague. They talk about large facilities, and that masks will be required so I'm not real sure about this but I think we should wait a little while before we can reopen. It should have had a little more detail in the restrictions."
Columbia County setbacks
Unlike Walla Walla County and the other counties in the region, Columbia County was in Phase 3 of Inslee's original reopening plan. The small county's relatively low COVID-19 case rate allowed it to move through the initial phases more quickly than other counties.
The move to the new Phase 1 does not bring much in the way of new restrictions or closures, Columbia County Public Health Administer Martha Lanman said, because the county was already affected by tighter restrictions the governor added in November.
These included re-closing dine-in restaurant service, movie theaters and gyms and reduced retail capacity back to 25% and already put Phase 3 counties back in line with Phase 2 counties.
Lanman said the biggest impact this new approach will have on Columbia County will come as the region aims to advance to the new Phase 2.
"Because of our size and numbers, we were one of the first counties to open in Phase 2 and then Phase 3," Lanman said. "Now, it will be more of a challenge because we will be lumped in with the other counties … To be lumped into a regional system is going to be challenging for our community."
Columbia County Commissioner Marty Hall said he was concerned.
"It's frustrating to me that we, in Columbia County, are lumped in with Yakima County and Benton and Franklin counties," Hall said. "Our dynamics here are completely different, both in size and in how the disease has affected us."
Hall, a new commissioner who has said he feels the economy needs to reopen faster, said this new plan is another roadblock.
"I'm afraid now that we will be one of the last ones to gain back the rest of our freedoms," Hall said