The COVID-19 pandemic has brought more change to local schools, this time in the form of vaccines on campus.
Friday, May 14, many students at Walla Walla High School stepped out of class and headed to the gymnasium as the first letters of their last names were announced on the intercom. With adult consent from home for those under 18, the teens were voluntarily being immunized again the coronavirus.
Over 300 students opted to get the shot, officials said. The clinic also welcomed community members. Some parents accompanied their kids, and the family members received the vaccine together.
"We had a very successful day at the vaccination clinic today," Walla Walla High School Principal Ron Higgins said.
"Many students told me that they were thankful for the opportunity to receive the vaccine here today and that, for a variety of reasons, they had not been able to arrange getting the shot offered at other vaccination clinics elsewhere in our community."
The Walla Walla County Department of Community Health partnered with a number of local school districts last week to offer the clinics. Prescott students and community members were offered the vaccine on Wednesday, May 12, while Touchet and Burbank had a clinic the next day.
The clinic Friday in Walla Walla was open to anyone 12 years or older since the Washington Department of Health expanded COVID-19 vaccine eligibility to that age group based on recommendations that the Pfizer vaccine is safe and effective for 12- to 15-year-olds.
Higgins said the Wa-Hi clinic was one of the first opportunities in the community for Walla Walla High School 14- and 15-year old freshmen to receive the vaccine.
Community Health will provide clinics at three middle schools next week, said Nikki Sharp, Healthy Communities Division manager for the department.
College Place Middle School will have a clinic on Wednesday, May 19, from 8:30-10 a.m., and on Friday, Pioneer Middle School will host the clinic from 9-11 a.m. and Garrison Middle School from 1-3 p.m.
The Department of Community Health, Walla Walla High School, Providence Population Health, the Walla Walla Clinic and members of the National Guard staffed the clinic Friday with a host of volunteers.
Sharp said the department has a strong relationship with the community's schools, and they will show up when and where there is a need, to get the community reopened.
Eric Rindal, a Walla Walla School District board member, volunteered at Wa-Hi's Friday event.
"It's been way more successful than I ever expected," Rindal said. "Great to see we are moving in this direction."
He said that although the middle school vaccine clinics are scheduled for the coming week, he saw some younger students filtering in for vaccines, not wanting to wait.
Samantha Ruiz, the assistant attendance secretary for Walla Walla High School, said she took on the job of calling students' homes asking if children had parental consent to receive the COVID-19 vaccine, if consent was not already given online or on a form — to provide a familiar voice for parents.
Kristine Holtzinger, a registered nurse working for the Walla Walla County Department of Community Health, administered vaccines to students.
"We've had a couple of kids who are the first in the family to get the vaccine," she said.
She recommended to students who were feeling nervous about getting the vaccine to visit the new Mobile Outreach Services Team RV parked outside. The RV rolled out last week.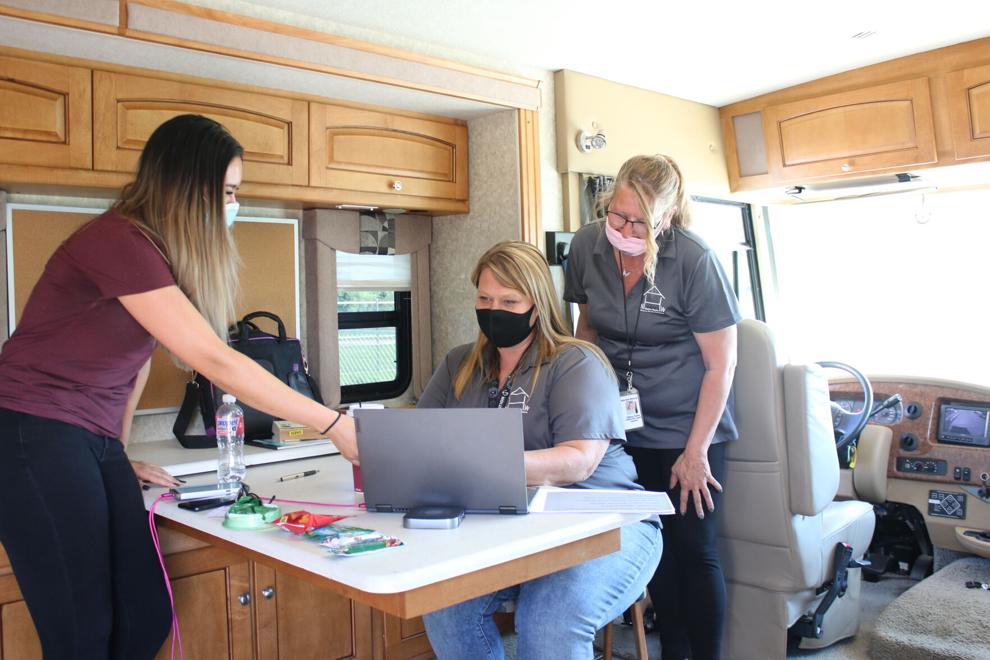 Walla Walla Alliance for the Homeless launched the Mobile Outreach Services Team, or MOST, in a collaborative effort with Blue Mountain Action Council and Providence Population Health.
Peer support specialists from Walla Walla Alliance for the Homeless and the youth and young adult service navigator for BMAC were in the RV on Friday parked outside the vaccine clinic, ready to connect students or other community members to any social services they might need.
They aim to meet people "where they are" and reach underserved communities, parking outside BMAC Food Bank events in Burbank and other areas.
Nikai Saunders, a peer support specialist, said they are in the community to reach people who don't know how to access the social services they need.
"Give people hope. That's the main thing we are here to do," she said.
Some of the services provided include helping clients sign up for food stamps, obtain ID, apply for and find housing, search for jobs, get connected with other agencies for drug and alcohol treatment and more.
Providence Population Health provides preventative health screenings, connects clients to health services and more.