MILTON-FREEWATER — Claudia Limon said she is excited to be a bridge in her community.
Limon, 37, was appointed to the Milton-Freewater Unified School District's board of directors in its regular meeting Monday night. The position came open with the August resignation of former board member Michael Lesko, who left to take a paid coaching job for the school district.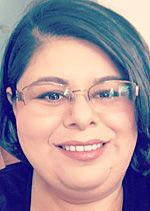 She is the first Latina or Latino to serve on this board, in a district with a population that is about 60 percent Latino and Latina.
A service coordinator with Blue Mountain Action Council in Walla Walla, Limon graduated from McLoughlin High School in 1999 after her family moved to Milton-Freewater in 1990. She attended Oregon State University, earning a bachelors degree in sociology. 
Limon long been active in her community, she said this morning, and the idea of serving on the school board has been on her radar for a while.
"I was seeing a voice that wasn't on the board, someone with younger children first of all. Someone with a connection to the whole community of Milton-Freewater."
Claudia and her husband, Everardo Limon, have a son, Evan, in second grade and a daughter, Vanessa, who will start kindergarten at Gib Olinger Elementary School on Wednesday. 
Limon said she can bring a another point of view to the board, one needed to better serve all of the district's students. 
It's a thought she's had for some time, she added.
"I was already very involved and this seemed like the next step. When the opening came it seemed like it was my turn. I think I am going to bring a whole different flavor to the group."
The idea is to represent all students and their families, Limon said.
"I'm trying to be an advocate for both sides. It's not just the Anglo community and the Latino community, but let's make this the Milton-Freewater community.
"I'm just ready for what's next. I want to learn as much as I can."
Limon's school board position is up for election in the spring of 2021.