Tonya Boffing was a tortured, spirited soul who brought turmoil and joy to her family. Although she has died, her legacy still has work to do, her mother says.
Tonya Michele Boffing is dead. She's been gone just over a year now.
Her family, however, is determined that Boffing's compassionate spirit and effervescent energy will live on.
As will the story of how their daughter and sister came to die at 27 years old.
It's not a tale for the weak of heart but recently Boffing's mom, Tiffany Gaines, and sister, Brittany Key, stapled their courage together to create a presentation for Weston Middle School students for a substance abuse and suicide prevention day.
The mid-September event featured presenters from around the area who were willing to talk to sixth-, seventh- and eighth-graders about tough topics like opioid addiction, vaping, substance abuse, juvenile law and counseling resources, said Principal Ann Vescio.
Afterward students seemed alarmed at realizing how one bad choice can change not only their own lives, but those of all the family and friends around them, Vescio said.
Gaines and Key sent this message out in 30-minute segments eight times that day, the first time they'd shared Boffing's painful journey publicly.
It was both heart-wrenching and healing, the two women said one morning last week.
They were at Gaines' home in Weston. A renovated 1900 farmhouse, the house is the picture of curated calm. Gaines has decorated for autumn with a catalog-worthy flair, something her daughters give her some good-natured grief about, she said with a laugh.
An early beginning
Gaines had always lived close to her three daughters, although the eldest, Jessica, just moved to Wyoming with her own children. It's another loss, Gaines said, coming close to the heels of Boffing's death Sept. 26, 2018.
That death, however, was about 15 years in coming.
Tonya Boffing did much of her growing up in Springfield, Ore., where she danced as a young teen in an adult hip hop dance team.
Her family would later find out the instructor had smoked marijuana with Boffing between classes, Key noted.
Boffing played basketball on her school's boys' team, despite poor grades. She was fearless and energetic, Gaines recalled.
"She couldn't walk anywhere without doing cartwheels."
In sixth grade, her daughter made a new friend, a boy who had already tried multiple ways of getting high, Gaines said, and that was a bad match for Boffing.
"She was a people pleaser," Key said.
"She didn't have that part that gives you 'stranger danger.' That piece was missing for Tonya."
Gaines was the primary parent in the family, her then-husband struggling with his own hidden drug addiction. She was at first unaware of the path her youngest was starting on, Gaines said.
Boffing became an expert secret-keeper, leaving her mom in the dark about smoking cigarettes and then pot.
The girl could sneak out of the house and back in before anyone awoke; in eighth grade, she once disappeared for three weeks.
"I was insane," Gaines said.
"I tried every friend, every parent, every place I knew to look. The police were zero help."
Gaines would later nail Boffing's bedroom windows shut and wanted to padlock her inside the house, so desperate was she to save her child from more trouble.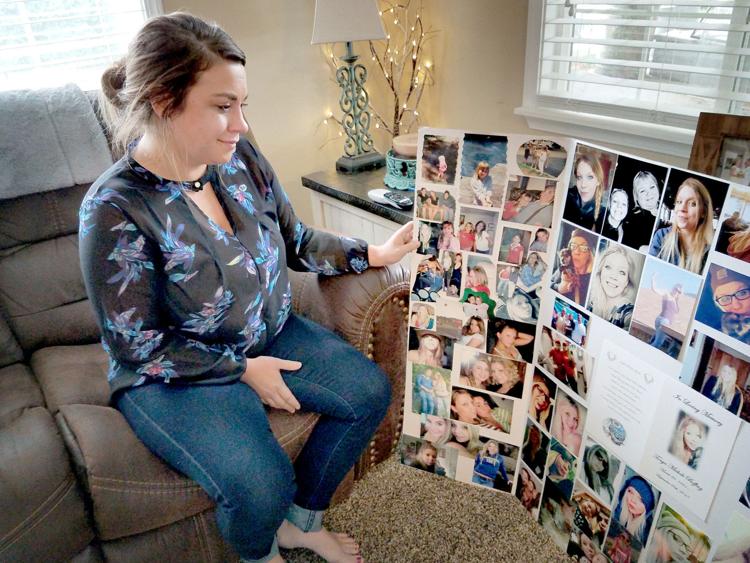 'She wanted to be good'
Part of the problem was Boffing's bubbly personality. Everyone wanted to believe her, Key and Gaines agreed, adding Boffing was highly manipulative but never malicious. Even the police brought her home instead of arresting her when they should have, they said.
"I think she wanted to be good," Gaines said, tucking another tissue into her hand.
"Everyone tried to save her and ultimately that played a part in her death."
By the time Gaines moved to Milton-Freewater in 2006, Boffing had smoked meth in eighth grade and was drinking.
But the small, rural town held a fresh start as well as family support, Gaines said, listing off her grandfather and mother.
Key was 16 and Boffing was 15 — at 14 months apart they were sometimes mistaken for twins, one chestnut-haired and the other blond. The girls settled in and things were better for a few months.
Soon Boffing shot up meth with another student she'd met at the school's district's alternative school, Gaines and Key said.
And at 19, Boffing discovered the heroin high.
"At the time I blamed people, I blamed the school. But ultimately it was her choice," Gaines said, sitting in frozen reflection.
Soon the rehab yo-yo began — Boffing would go into treatment, come home, be better and then begin the addiction cycle again.
Gaines and Key have lost count of how many rounds this went on, but estimate Boffing went into rehabilitation at least seven times.
And afterward? The daughter and sister they remembered would emerge. Her good heart would show itself again. Family became important to Boffing in those periods and it felt like there could be a future for the young woman.
Yet nothing worked for long to quell Boffing's raging addiction.
Gaines and her other children struggled to maintain a relationship with Boffing. The hurt they'd endured was a barrier to trust and no one could let their guard down completely.
Boffing's actions gave reason to stay on high alert. Her criminal records in Oregon and Washington are packed with a range of arrests and probation violations. Her daughter stayed jailed for most of her 18th year, Gaines said.
There Boffing met the man who would introduce her to heroin. At one point her veins were in such terrible shape the boyfriend shot heroin into her jugular vein.
When she soon landed in the hospital with a heart infection, the same guy brought in heroin to inject into her IV line.
Still, Gaines thought this would be her girl's turning point.
"She got really sick," Gaines said, recounting a monthslong ordeal and a heart surgery narrowly avoided.
"I thought that would scare her into taking her health seriously."
Addiction never dies
The crisis did not kill the addictions, though, and neither did what came next — a 2.5-year prison sentence for residential burglary.
Boffing was frightened of going behind bars again, but ended up in "great" drug-prevention programs, earned her GED and took job skill training, Gaines recalled.
"She was 'adulting' and proud of herself. We had so much hope in her being clean for that long. Then she had to go to a halfway house in Spokane ... she had two full-time jobs. She was making money and feeling great."
At Boffing's three-years-clean point, it happened again. At a bus stop she met a man also in rehab. Her sister saw him as needing her help, Key said.
The resulting relationship was peppered with problems and soon Boffing and her new boyfriend were using drugs together. First one job, then the other, was gone, while the man grew irrationally jealous and physically abusive, Key and Gaines recalled.
The couple discovered Boffing, 24, was pregnant.
This, surely this, would mean something different this time, Gaines remembered thinking.
"I thought if anything is going to save her, it's her own baby."
But addiction is a brain disease, noted Dr. Jeffrey Allgaier of Ideal Option addiction medical treatment.
The agency has treatment centers in eight states and recently opened a clinic in Walla Walla.
Allgaier is Ideal Option's chief medical officer and board certified in emergency and addiction medicine.
"What we know about substance use disorder, also known as addiction, is that it is a true medical disease. It's not a moral failing and it's not generally a choice," he said.
"People are genetically predisposed to the disease ... These are good people who, unfortunately, have a medical disease that we now have good treatment for."
Although effective treatment for heroin addiction has been available for about 15 years, the stigma of the disease has prevented the treatment from being appropriately used at any significant level, Allgaier added.
Boffing continued to use heroin during her pregnancy, just enough to stay out of withdrawal. Her sister understood withdrawal would put the growing baby in great physical stress, Key said.
She and Gaines called child protection and probation officials to report the pregnancy and try to get Boffing help.
After a horrific labor — no pain medication was enough after so many years of heavy drug use — Boffing's baby girl was born premature and addicted.
Yet surprisingly healthy, given the circumstances, Key said.
Once again, Boffing's family held hope, thinking a child to live for could keep the new mother away from trouble.
When Boffing wanted be discharged the next day, well before the baby could go home, they knew otherwise, Key recalled.
Six months later officials told Key, already caring for the newborn, to begin taking steps to adopt — the baby's father was unable to parent and Boffing's disease was back in full force.
"I knew when she couldn't stop for her own baby that I was going to bury mine," Gaines said.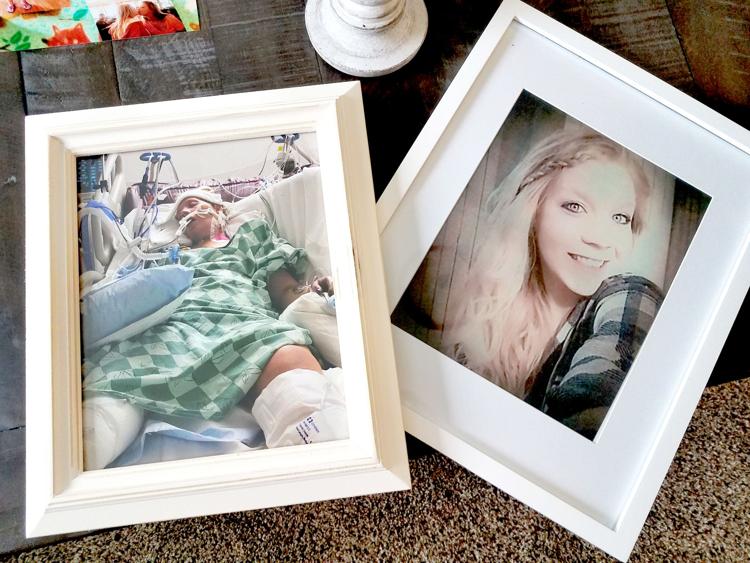 The last journey
It took a few more years, another stab at getting clean, an open heart surgery and more promises to stop using.
Two months before her death, Boffing asked Key if she could come and see her daughter. By this time Key had borne a daughter, as well. The two are 15 month apart — one is dark haired, the other is blond.
That day Key found needles in her sister's bags while Boffing slept in her home, despite being warned to not bring in any drugs.
"I was really, really angry," Key said, wiping her cheeks dry.
"But I made breakfast and then I dropped her off in Milton-Freewater. That was the last time I saw her."
Boffing tried calling on her daughter's late August birthday, but Key couldn't bring herself to answer the phone.
Now she can't erase the message Boffing left, asking to be allowed to come over and give her child a gift.
Days later Boffing would get an infection in her brain and be put into a medical coma, completely dependent on life support. She suffered two major strokes and her hands and feet began turning black.
"All her organs were failing," Gaines said.
"It took six days for us to realize she was not going to get better. We had to make the decision to pull the life support."
It took Boffing another six hours to stop breathing, proof of the fighting spirit that had both blessed and cursed the young woman.
Key and Gaines made sure Boffing was there at the presentation at Weston Middle School. They took along a collage of photos and the urn of her ashes. Gaines passed out bracelets made with a favorite encouragement of her late daughter — "You are worth it!"
Those students were curious and compassionate, Gaines said.
"They made it worth it. Because it was hard."
Teacher Kati Funderburk had organized the day for Weston Middle School, and invited Gaines and Key.
Their sessions were the saddest story of the day, but opened the students' eyes, Funderburk said.
"They were amazed that their own choices could affect more than just them, and for a lifetime. They were surprised (Gaines and Key) were still sad a year later," she said, pointing out the innocent timeline of youth.
When Gaines and Key were leaving the school, exhausted by their mission, a teacher approached Gaines and held her face in her hands.
"She begged us to never stop doing this," Gaines said with a slight shake of her head and a bemused look.
There is comfort in knowing her sister can still help people, Key said.
"If her death saves even one person, it will help us," she said.