COLLEGE PLACE — Schools Superintendent Tim Payne learned Thursday he's been chosen to lead the Ephrata School District.
The College Place Public Schools lead told his employees he felt both joy and sadness after getting the news.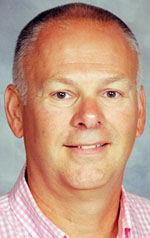 His three-year contract with Ephrata starts July 1 with an annual salary of $177,000.
Payne and his wife, Sheilah, arrived in College Place in 2001, with three young daughters, prepared to "humbly serve" their new community. Leaving behind the people and those relationships built over 18 years could only be done with the right timing for new professional growth and the chance to move closer to family, including grandchildren, Payne said Thursday.
"I am excited about where I'm headed but very sad about what I am leaving," he said. "We are doing good work here in College Place right now, preparing for the future."
Payne was one of four finalists for the Ephrata district, which is about 135 miles northwest of College Place.
Ephrata School Board Chairman Alan Key said today Payne is a "known commodity" due to his work in that area of the state before coming to College Place.
"He knows these small towns, and he is very personable. We're excited to have him," Key said. "He has a good personality we all thought we could work with."
The Ephrata School District has two elementary schools, one middle, one intermediate and one high school. Last month, that community passed — with about 76 percent voter approval — a $27.8 million construction bond for security upgrades, new classrooms, new multipurpose gyms at three schools, roof replacements, remodeling and enlargement of spaces.
Payne's long tenure with the College Place School District and experience with school construction projects made him an attractive choice, Key said, adding bond work in Ephrata will be the new superintendent's first challenge.
"Coming up to speed on that," Key said. "Everything is time sensitive when you start selling the bonds."
Ephrata's public schools are 65 percent white and 32 percent Latino; 55 percent of the student population is from low-income families, and 11 percent are English learners. Ephrata High School has had a graduation rate of about 95 percent in recent years, Key said.
Sheila Hagar can be reached at sheilahagar@wwub.com or 526-8322.