Under the roof of a warehouse off Isaacs Avenue, a construction team builds what appears to be a miniature housing development. Literally.
A cluster of "tiny homes" in various stages of construction are spread across the Port of Walla Walla-owned warehouse where Seattle Tiny Homes manufactures the next big thing in minimalist living.
At the center of activity, two people frame the body of one house, while 20 feet or so away, another team member finishes touches on top of a different home with a complex gambrel roof. Meanwhile, on the eastern side of the space, one tiny home is just beginning, as a worker welds a custom-made trailer that will serve as the foundation. Nearest the employee door on the side of the property that faces the highway, a fourth home is prepped for paint before being shipped off to a customer.
These and the numerous other stages of building repeat as homes ranging from 24 to 44 feet long are finished on an average 90-day cycle and shipped off to communities from Seattle to Texas.
"If they want stained glass from France, it's going to take a little longer," Seattle Tiny Homes founder Sharon Read deadpans.
Read, the contractor who switched from big homes to small when she started the business in 2010, takes great pride in the design and customization of each home. Want to downsize while keeping your big TV? She'll find a way. Can't part with a piece of furniture that's been passed down through the family? She'll make it fit.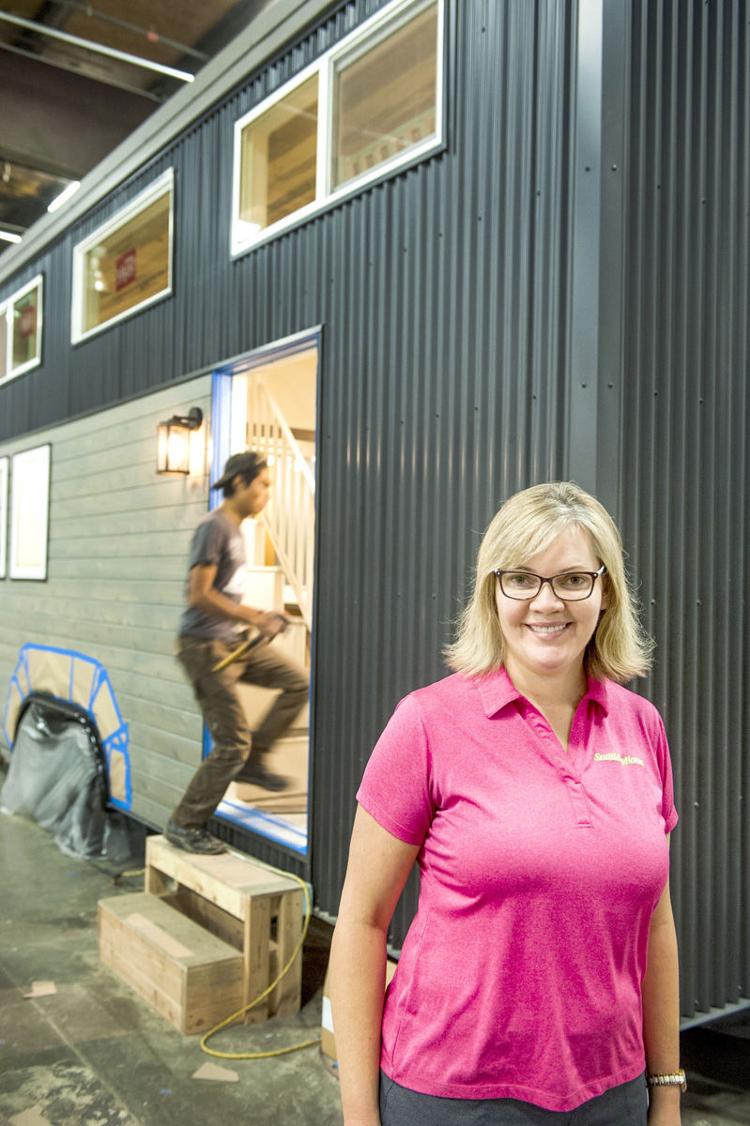 "I love design and designing from the tires up," she said. "We design it to meet the needs of the customer. If they don't ever bake, why would I put in an oven? If they don't like baths, why would I give them a tub?"
During two weekends in October, Read hosted an open house for one of the tiny homes on the property of her own larger home (more on that later).
"There's a lot of design tricks in here to make it feel bigger than it is," she explained as visitors trickled in to see. Windows, colors and textures are among the methods.
Embracing use of vertical space versus a more spread-out approach is also key to the homes, which can also be sold in various stages of construction for do-it-yourselfers.
Separate from that, getting a glimpse of the finished product in a real-life setting is a little trickier in Walla Walla. At least until regulatory changes are made, Read said.
Regulations hold back greater adoption
Although the community serves as a hub for the tiny trend demand, building codes have been an impediment locally for those who want to go small themselves.
That's been as much a part of the narrative of the tiny home movement across the country as the trend itself.
The structures are so small they typically don't fit into building standards as residences.
And while Seattle Tiny Homes reportedly holds the achievement of having been the first licensed/RV travel trailer tiny house maker in the country, RVs aren't meant to be lived in more than 60 days of the year. That's what also causes difficulty in using it as a residence.
That doesn't, of course, mean it isn't done. RVs are entirely legal to park on property, and whether someone is in it 60 days or 160 would be tricky to know for enforcement purposes.
A swell of support may be changing the tide for tiny homes, though.
The International Code Council has adopted what is known as Appendix Q, language that defines a tiny house of 400 square feet or fewer and creates building standards specific to its needs.
That appendix is directed specifically at tiny homes on foundations.
But its adoption is one of 19 recommendations to the Walla Walla City Council on potential ways to encourage housing supply in the face of affordable housing shortages, said Walla Walla City Councilman Riley Clubb.
Tiny homes could boost affordable options locally
"Tiny homes are definitely part of the affordable housing discussion here locally," Clubb said.
This year, Clubb and fellow Council members Yasmin Bahena and Steve Moss made up the Affordable Housing Task Force to investigate ways to encourage housing supply, particularly for those with income levels around or below 50 percent of the median income.
The group met about 12 times over a six-month period on the way to crafting 19 recommendations for the Council to consider. Those were presented in August. Two are specifically meant to soften regulations on smaller, manufactured housing, Clubb said.
In addition to adoption of Appendix Q, another recommendation is to relax regulations on manufactured housing, including the intensity level of development reviews.
What the task force found in its research is the supply-and-demand issue with affordable housing is even more dramatic depending on income.
For instance, the findings said, there are only eight affordable housing units on the market for every 1,000 households making $25,000 to $29,999 per year. Comparatively, there are 51 affordable housing units on the market for every 1,000 households making $45,000 to $49,999 per year. The information was based on the Housing Opportunity Curve that measures the number of affordable housing units on the market for various income levels, rather than median income alone.
Read's Seattle Tiny Homes won't necessarily be the answer for everyone who would want to live small. Considered luxury and custom, they may start at higher prices than other tiny homes, she acknowledged.
The model from October's open house, for instance, was a 24-footer with 192 square feet on the main level and 80 square feet in the main loft.
Spaces and amenities include a kitchen with full-sized fridge, cooktop, microwave and oven option; bathroom with tub, shower, washer/dryer hookups, vanity and toilet; great room with convertible sofa room for a wall bed; 10-foot loft bedroom with space for a king bed; an extra 2-foot storage loft; wiring for cable and internet service; and a storage room. It sells for $73,500.
The structures have had uses as mother-in-law accessory units, retirement cottages, extra space for a college student, home offices, studios and vacation rentals. Exploration as affordable units is another avenue.
"I think if people want to live in smaller homes they should have the freedom to do so," Clubb said. "Especially with the recent adoption of safety standards and quality improvements in smaller, manufactured housing, I think we should at least allow this housing to exist in our residential area."
Walla Walla Development Services Director Elizabeth Chamberlain said opening the door to tiny home development would require permanent foundations for a more cottage-style development.
It may be part of a multifaceted approach to the affordability issue, she said. But another complication is that tiny homes definitely feed a niche market.
"It's a particular person who wants to live in a tiny home," she said. "Not everyone wants to live in 300 square feet of space."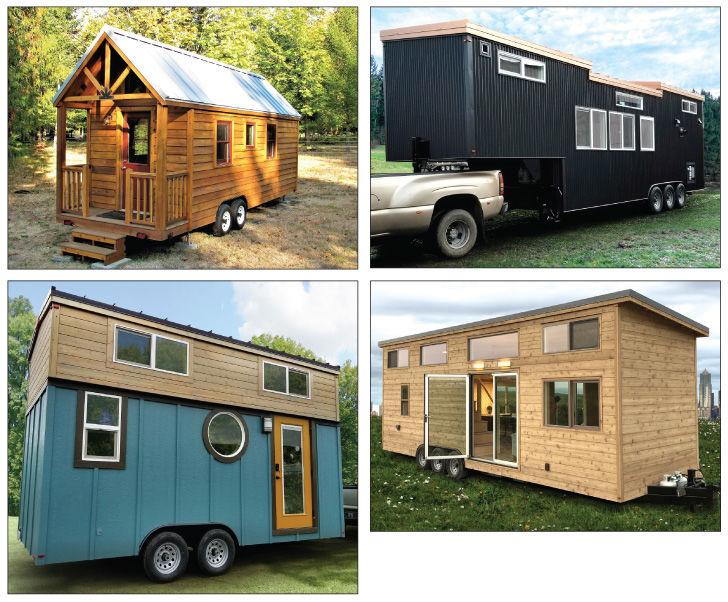 Paring down to the essentials
No one knows that better than Read, who realized a dream of "bare minimum" development when she launched Seattle Tiny Homes with her own house as the first structure built under the business.
The daughter of a contractor who became one herself, she got the idea for to go small when the housing bubble collapsed and she realized the large home she'd built would likely sit on the market for an unknown period. It seemed demand was changing.
The idea also fit in with a passion for design that started as early as 9. Her dad was a general contractor on a church building when she saw her first architectural renderings.
Smitten with the tools and the scale, she got her own materials to start drawing up plans herself. One of her first memories was playing with a vision she had of remodeling her grandmother's house and a pesky design problem where the kitchen was the connector to every other room.
She also pulled up memories from when she was 12 and had written "BM" as a code for her drawings. The initials stood for "bare minimum."
In tiny homes, she said, you don't squander luxury or comfort as much as you rid yourself of extra unnecessary square footage that essentially serves as open space.
She brought that first model to an RV show in Poulsbo, and landed two sales from the event.
Over time, the lifestyle was not suited to her husband, and after seven years of ownership she sold the building.
"Now I live my dream through other people," she said.
With a crew of 15 that includes Ben Klassen as foreman for Seattle Tiny Homes, the team has enough demand to build an average of four or five houses at once on the 90- to 120-day cycle.
The most constructed at once in the warehouse where Odom Corporation also operates was seven. Read doesn't share specific sales numbers. She does, however, believe she loses at least one sale a day based on regulatory challenges in the communities where customers from across the country, and largely in the Northwest, want to live.
"There will always be people who want big houses," she said. "But government needs to catch up with the shift in culture."