COLLEGE PLACE — A new restaurant and taproom under construction brings something never seen before here.
Both conceptually and geographically.
Hop Thief Tap Room is not only part of the first wave of self-serve taprooms in the state of Washington, it's the first restaurant and taproom to open in College Place ever.
Ground was broken in May at the spot just beyond the corner of Southeast Lamperti Street and Southeast Larch Avenue, bordered by a natural area where Stone Creek runs along the perimeter of the property.
Owner Juston Watson says his ultimate goal is to open by the end of the year, though it may be ambitious.
On Thursday a construction crew was completing underground utility work just off a stretch of what will be the private road — dubbed Sydnee Place for Watson's mother — leading into the property.
In about a week the slab will be poured. By the end of the month, framing should begin on the building that will have the look of an old-style barn, Watson said.
Vastly different from his Stone Hut Bar & Grill on Plaza Way and Tietan Street and Red Monkey Downtown Lounge on Alder Street, Hop Thief incorporates the growing self-serve trend around craft beer.
In partnership with self-serve tap technology from firm PourMyBeer and Square's Register, guests will check in, show their ID, provide a payment card or prepay for a dollar amount, and receive a card or wristband device that enables them to access what will be a 40-foot wall of taps.
Watson said drinks will include craft beer, wine, cider, kombucha, cold brew and tea.
The system limits guests so that after 28 ounces they will lose access until a staff member has checked on them and confirmed they can continue to self-serve.
The model is in its relative infancy in Washington state.
Watson's vision for the space is a 4,100-square-foot main floor with 500-square-foot mezzanine area. The structure will look like a barn-style building. An outdoor covered patio area will put customers even closer to the trickling creek on the Larch Avenue side of the property. On the back end, toward Lamperti Street, a patio will allow guests to play cornhole and enjoy a fire pit. All told, the square footage adds up to about 6,200, said Mark White, owner of Definitive Design and Construction LLC, which leads the project.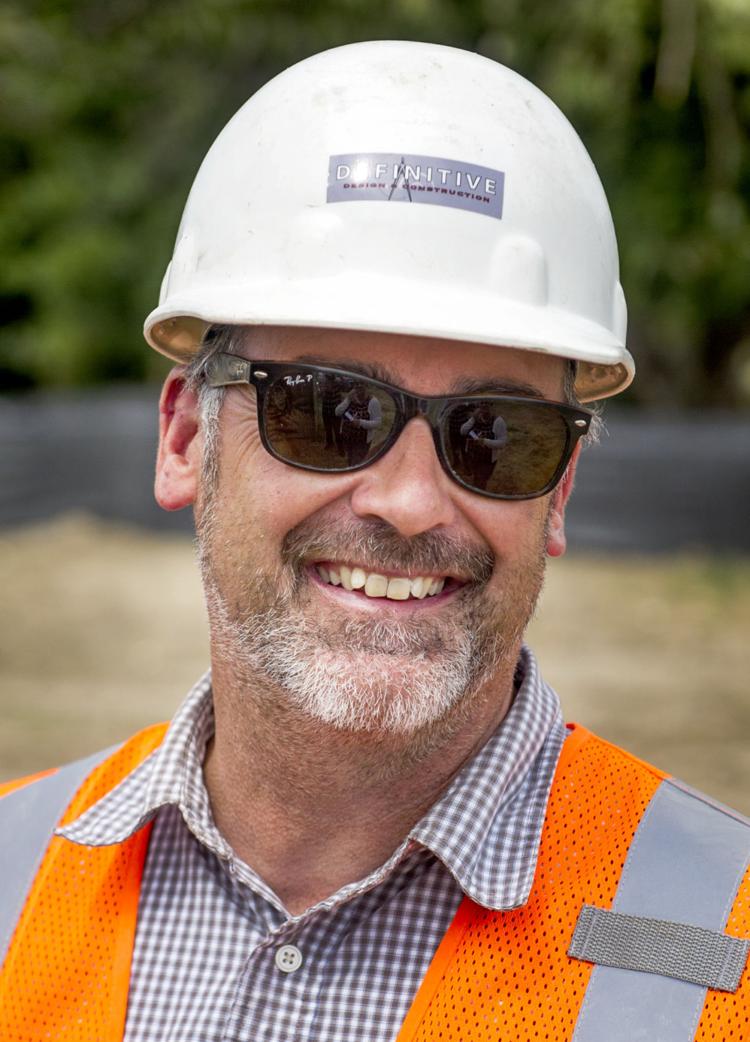 It's what Watson describes as the "first social building" of its kind in College Place.
Inspired by the concept after a trip to Denver two years ago, Watson conceptualized his vision for his own place.
Only one year ago did the Washington State Liquor and Cannabis Board adopt permanent rules for self-dispensing wine machines and self-service beer taps.
The process opened the door for him to find just the right location.
He said he visited 11 different sites before landing on the College Place location that has been in his family for multiple generations.
Purchased from his father Tom Watson Sr., who also co-owns the Meadowbrook Plaza commercial property, the land bordered the property where Juston Watson's grandfather grew onions.
As a child living in Montana, he'd visit the area on vacation and catch frogs in the creek that now wraps around his future building.
Now it becomes the site of his own vision of the future.
"Self-serve is kind of the trend," Watson said.
Along with the infusion of technology in service, the spot will be a place where guests can pre-order and pick up their food upon arrival, either to dine in or take home.
It will showcase craft beer imports and east coast brews, along with a flagship "Kleptomaniac IPA" expected to be created in tandem with Burwood Brewing Co.
Watson said he plans to take aspects of his two other bars and infuse what works well with the new space, while also crafting an identity all its own for Hop Thief.
"We have a lot of stuff already set in stone," he said. "There's not going to be a lot of guess work."