The Italian Heritage Association of Walla Walla hopes to gather support for a Christopher Columbus statue on the Walla Walla County Courthouse lawn at 11:30 a.m. Saturday, Sept. 11. The day marks the 110th anniversary of the Oct. 12, 1911, dedication of the Christopher Columbus statue located at 315 W. Main St.
Organizers plan to gather signatures on a petition and support letters to Walla Walla County commissioners in favor of keeping the Columbus statue in place, said IHA member Teresa Fausti. IHA in 2020 submitted a proposal to county commissioners to donate a historical plaque and bench in front of the statue, to educate visitors and locals about the historical significance.
Vandals scrawled graffiti on the statue on June 30, 2020.
That incident sparked debate about whether the statue should remain in front of the courthouse, with some arguing that the statue honors the heritage of Italian immigrants who settled the area, whose names are memorialized on the base of the statue, and others arguing that Columbus should not be honored on Native land.
An organization called We Belong Walla Walla is calling for the removal of the Columbus statue and monument. They object as "the image of Columbus on Umatilla, Nez Perce, Walla Walla and Cayuse land is traumatic, especially for many of our Black, indigenous and people of color citizens as they enter the courthouse. The history of Christopher Columbus is meant to be remembered, not honored," according to a Facebook post from the group on April 20.
IHA members argue the statue has historical significance.
"Columbus, an Italian from Genoa, and the statue are the historical connections to the Italian story, history, suffering and contributions and provide an opportunity to share the stories of hope for a better life to current and future immigrants and other groups who face discrimination and hardships," Fausti said in a release.
"My grandfather, an Italian farmer in Walla Walla, whose father immigrated here from Italy, used to drive by the courthouse with our family and point out the Columbus statue with pride," Fausti said. "It meant overcoming challenges, experiencing a better standing for Italians in the community and acknowledging their important role in the town.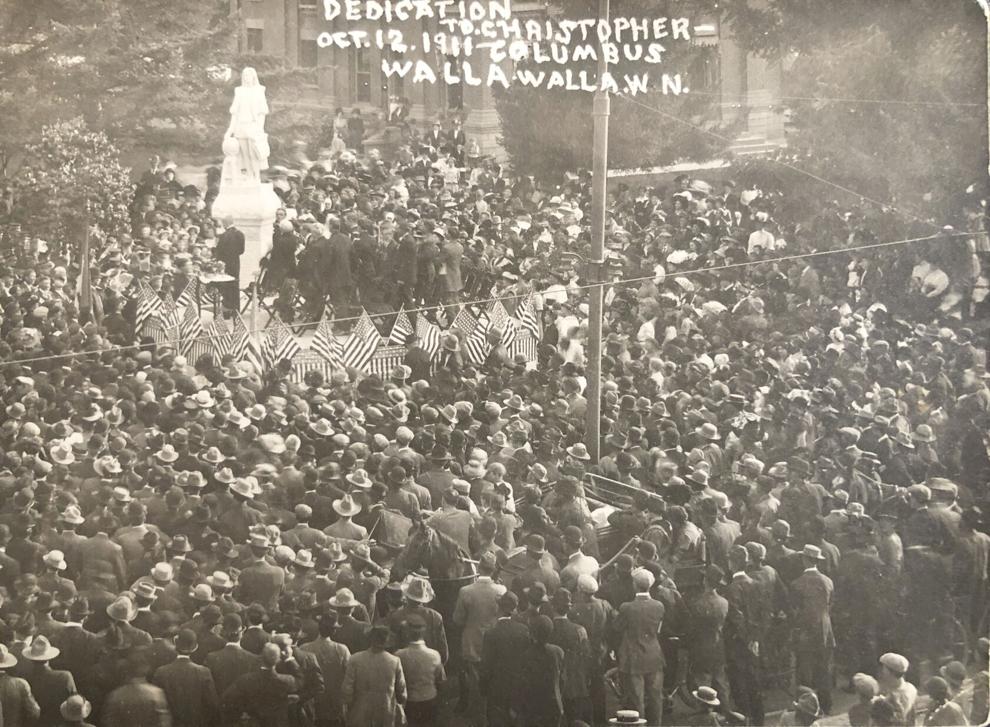 The Columbus statue in Walla Walla was donated in 1911 by local Italians as a sign of gratitude for the opportunities found in America, despite the group facing segregation, discrimination and exclusion due to their ethnicity, Fausti said.
IHA members think removing statues is a dangerous precedent, the release stated.
"What happens if someone decides the cow in front of the library is offensive?" Fausti said.
The Board of Walla Walla County Commissioners is accepting public comment regarding the fate of the Columbus statue until Sept. 13. Comments can be emailed to columbus@co.walla-walla.wa.us or mailed to Walla Walla County Commissioners, PO BOX 1506, Walla Walla, WA 99362.