The late Sen. Jeannette C. Hayner of Walla Walla will have a park named in her memory.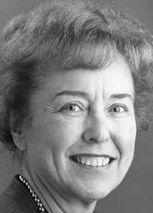 The opening of Jeannette C. Hayner Park, featuring "the world's largest London plane tree," will be at 10 a.m. Sept. 25 on the southwest corner of the Walla Walla High School campus on Reser Road.
Stemming from her write-in candidacy Jeannette is the first woman elected to the Walla Walla School Board. She served seven years on the board, including two as board chairwoman.
At 53, she ran for the open 16th District seat in the state House of Representatives, prevailed over three men in the September primary and defeated the incumbent Democrat in the general election. 
The family name had been Hahner up to that point but after the election, it was changed to Hayner. Jeannette was re-elected in 1974 and served as minority whip in the 1975-76 legislature.
She ran for and was elected to a state senate seat in 1976. At age 60, she became the first woman to hold a top leadership post in the Senate Republican Caucus. In 1981 she became the first woman majority leader in the history of the Washington Senate.