The Weedery and Cannabis Company are not the only local businesses catering to cannabis aficionados. Several stores specialize in implements and accessories.
Ryan Kelley is the owner/operator of the recently opened Glassography at 1637 E. Isaacs Ave., offering custom glass work, canvas art and jewelry by local artists.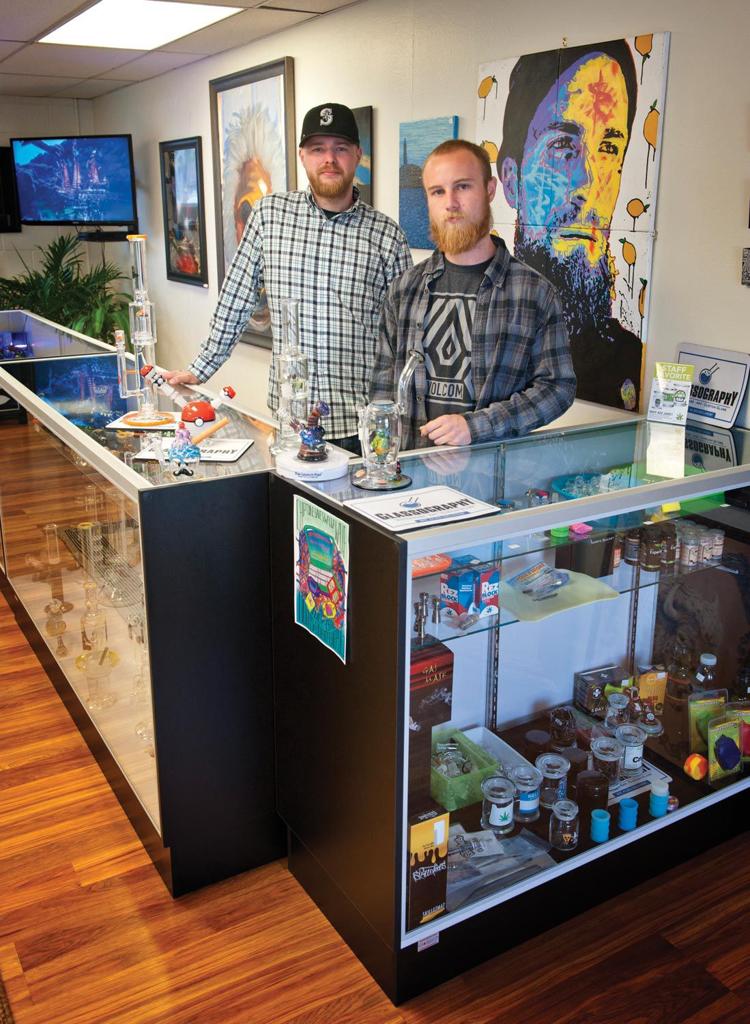 An avid glass collector, Kelley was motivated to open his doors in Walla Walla because he saw a need for high-end paraphernalia.
"We provide a clean atmosphere with lots of custom pieces, and are never scared to haggle on price to get a deal done," he said.
As an active skydiver and a father of three, and with the opening of a second location, in Oregon, Kelley said he currently is a very busy man. He finds the greatest challenges he has faced are with marketing his business.
"Even with the legalization of cannabis, the stigma still applies," he said. "It's hard — and sometimes impossible — to market, due to the nature of our business. Word-of-mouth tends to be the best way to get the word out."
Kelley feels more retail cannabis shops need to open in Walla Walla in order to allow further competition and keep prices down for consumers.
"I'd like to see more transparency and ordinance changes to the current regulations made by the city of Walla Walla regarding cannabis," he said.
For more information, call 509-876-0420.
Walla Walla Smoke Shop & Gift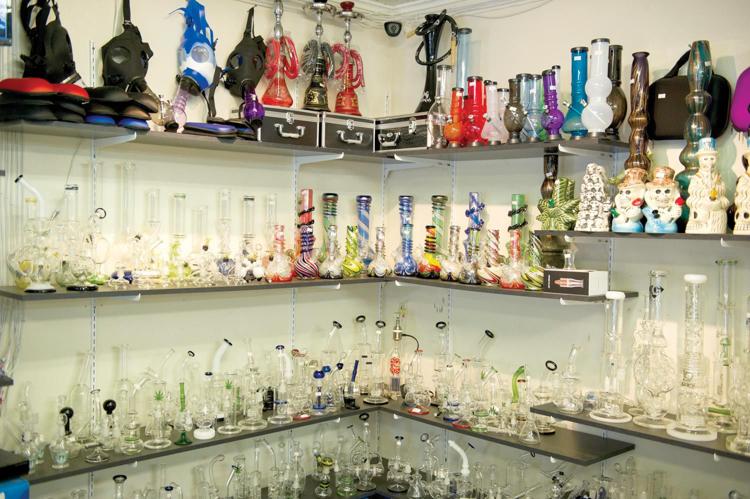 Many locals will recall journeying to out-of-town head shops, where "tobacco-smoking" accessories including "water pipes" ("bong" was a trigger word that often got you kicked out) shared shelf space with elixirs to detoxify the body rapidly in case of an impending drug screening. Where pot-leaf posters adorned the walls and the air was thick with the scents of incense and the pulse of reggae and rap.
Nowadays, that experience can be somewhat relived with a visit to Walla Walla Smoke Shop & Gift at 1434 E. Isaacs Ave., which offers a similar array of products to the ones found in those head shops. Smoke & Gift retails virtually everything a cannabis or tobacco user might require, from components for e-cigarettes and vape pens to an extensive selection of glass smoking devices at all price points, plus a huge variety of related items.
Employee Rod Herfel says the store, which opened in October 2013, sells more e-cigarettes and accessories than anything else. Several cases are chock full of colorful packages of e-cig juice, and the shop carries a large variety of components. Some e-cig battery units can also be used with atomizers for cannabis extracts, he says.
Herfel doesn't think the store sells more smoking or vaping devices now that legal cannabis is available for purchase locally, but says he often encounters tourists popping in for a small, inexpensive glass pipe on their way out of town. Just like Walla Wallans used to do at Pandora's Box in Umatilla or Zanie's in Spokane, before heading back home to the Valley.
For more information, call 509-525-1533.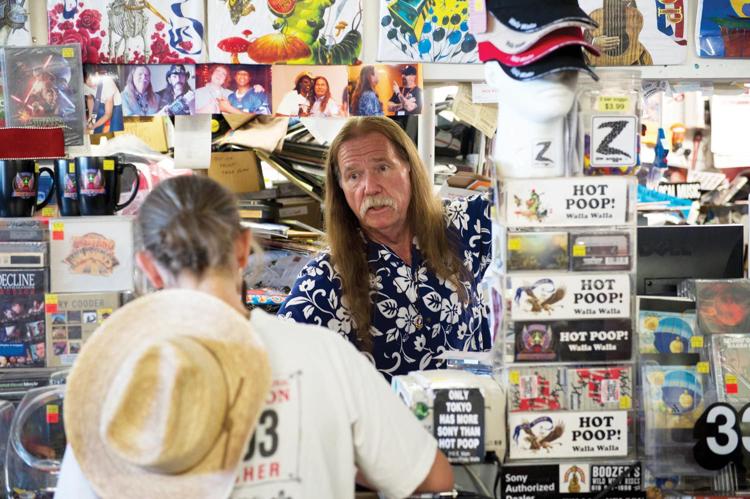 In the fall of 1973, Jim McGuinn left his snug, sweet home in El Cajon, Calif., in search of America. He turned left at Greenland and — voila, voila — found himself in Walla Walla. Richard Nixon was president, John Lennon was alive, the Vietnam War raged on and nobody died from making love.
Soon after McGuinn's arrival to this small Americana town, "I opened up a Bing Bang (paraphernalia) shop in a newly expanded two-seater barbershop that promptly got most of the town talking. I named it Hot Poop, and there wasn't enough sugar in all of the Hawaiian Islands to make that bitter pill any easier to swallow," he said.
"Marijuana was as illegal as original sin and just as enticing and popular with most of my customers," McGuinn continued. "I was not the first to offer smoking accessories in Walla Walla, but like the brothels, missionaries and hostile Native Americans before my arrival, I was hands-down the most notorious. ... (N)o one today would equate Zig Zag rolling papers with a syringe, but that seemed to be the prevailing consensus in 1973."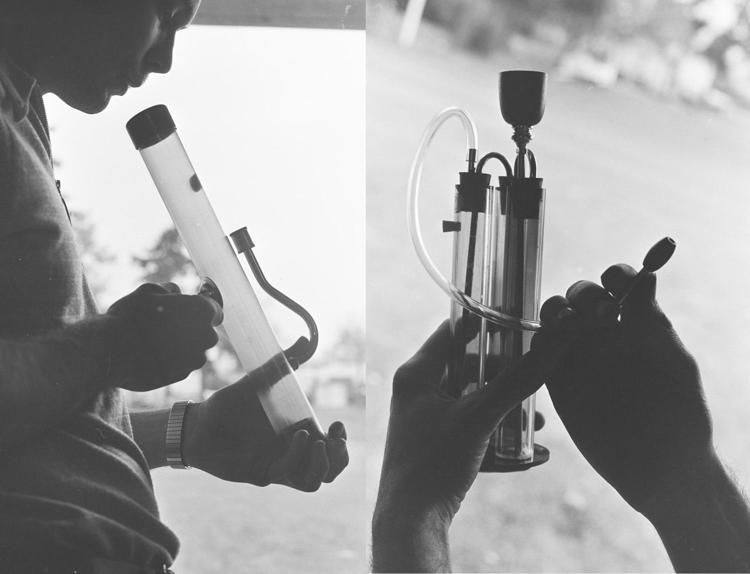 In 1981, a new city ordinance halted Hot Poop and other retailers from selling smoking accessories, McGuinn said. Of note, legendary local DJ Rockin' Cochran was reportedly kicked off the Walla Walla airwaves for mentioning such paraphernalia on a live remote broadcast. Hot Poop complied with the law and gave away its remaining inventory to consenting adults on the day before it took effect, McGuinn recalled.
"It was a packed house that day!," he said.
Most of Hot Poop's paraphernalia customers, however, did not stop smoking cannabis because of the law. They didn't necessarily need Hot Poop to provide them with papers, pipes and bongs to enjoy their product, McGuinn said.
"Like the pioneering Americans before them, they got creative with homegrown and kitchen-made contraptions," he said.
But in 2016, with cannabis and cannabis accessories now legal to sell within city limits, Hot Poop, at 210 E. Main St., once again offers a several-cabinet inventory of smoking devices. Hundreds of competitively priced glass hand pipes are available, along with small bongs, one-hitters, incense and 420 patches. The store also has possibly the town's largest selection of High Times back issues.
"Initiative 502 changed my customer's lives for the better," McGuinn said. "It was a righteous law that validated their almost-religious consumption of a once-illegal sacrament."