With at least 28,000 known species, wild orchids are found on every continent except Antarctica. The Washington Native Plant Society's website lists 11 orchids native to Walla Walla County.
Rare specimens from across the globe can be found at local wholesale orchid nursery Orchidaceae, owned and operated by Mark Srull and Joan Bateman in Walla Walla. Some species they cultivate come from plants found in the wild in Colombia, Ecuador, Nicaragua, Vietnam and islands in the Pacific Ocean.
"Orchids are a really interesting and fun plant to grow," Srull says. "The diversity is amazing."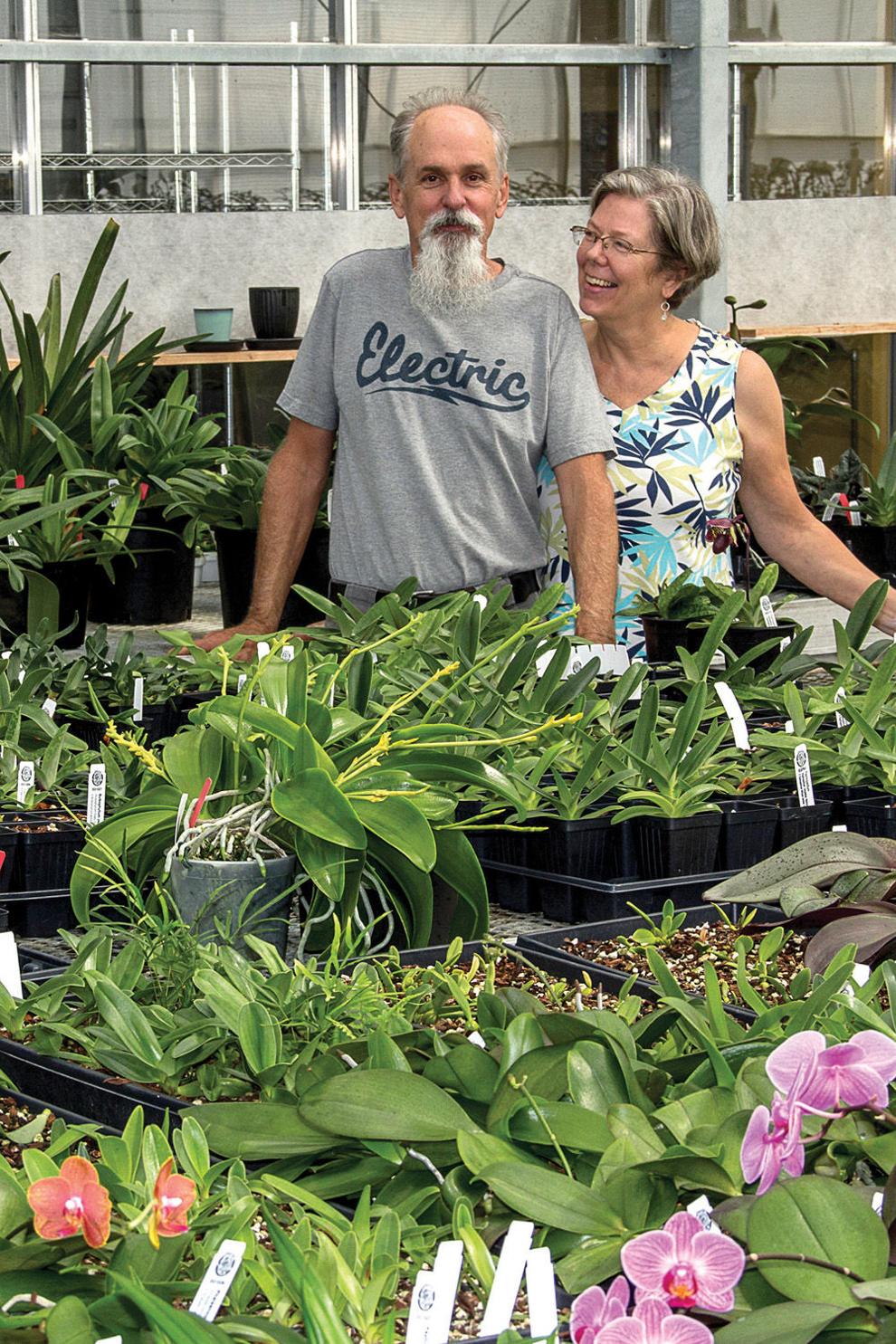 New orchid varieties are still being discovered in the jungles of countries like Vietnam, Bateman notes.
"It's fun to be involved in this industry that (people) think is static, but it's really anything but," she says.
Endangered orchids are protected under the Convention on International Trade of Endangered Species. They can't be carried across borders without the proper paperwork. This is why some rare varieties sell for as much as $30,000 on the black market, Srull says.
Collecting orchids from the wild can be a dangerous pursuit, often involving armed guards and inhospitable jungles, as well as trails of red tape to legally bring the plants into the U.S. Srull and Bateman have no interest in that side of the business; Srull has visited a large orchid lab in Taiwan, and buys some varieties from a facility in China. He also trades with other growers in the U.S.
From the jungle to the lab
Srull and Bateman opened Orchidaceae in 2003 after moving here from Seattle, where they had a smaller business. In their current 10,000-square-foot greenhouse and lab they cultivate award-winning hybrid varieties, as well as some rare species. Bateman explains a species refers to the flowers that grow in the wild, and hybrids are created when different species or other hybrids cross. With some 100,000 varieties, hybrids are easier to grow because many have been bred for heartiness, as well as astonishing colors and long-lasting blooms.
Srull has grown orchids for about 35 years. With a background in graphic arts and design, he first grew them as a hobby, but knew he wanted to transition into this type of business.
Orchid cultivation is a complex process. It may take up to five years before a plant sees its first bloom. Starting from sawdust-sized seeds, Srull's orchids spend their first two years in a sterile flask under grow lights in his culture lab. When plants are large enough, they are transplanted, and transported to the greenhouse across the hall. It will be a few more years before they see their first flower. Once an orchid blooms, the flower lasts for several months; many plants continue to bloom for years.
The oldest orchid in their greenhouse is a Clair de Lune they affectionately refer to as Clair. At 76 years old, it is a rare hybrid of Paphiopedilum, a stunning green-and-white lady slipper native to Southeast Asia.
Orchidaceae grows about 10 orchid families; Bateman estimates there are tens of thousands of individual plants growing between the lab and greenhouse.
"When people walk into the greenhouse the first thing they do is go 'Ah,'" Bateman says. "Orchids have this certain elegance — it's very clean and simple."
The greenhouse is a softly lit sea of green. In its center are rows of a creamy white phalaenopsis variety. Soon to be taken to market, these are the most common type. Yet the amount of blooms Orchidaceae gets onto one stem is much more impressive than your grocery-store variety. Other blooms in the greenhouse span the warmer shades of the spectrum — magentas, salmon, purples and pinks.
Then there are the rare specimens Srull grows for the "orchid nerds," as he refers to them — himself included. Bulbophyllum orthosepalum, for example, with its deep-green drooping leaves, and a single bruise-red bloom that gives off a smell of rotting meat. The scent attracts its pollinator, the carrion fly, in its native habitat in Papua New Guinea. Its cousin Bulbophyllum frostii sits beside it, covered with petite red-speckled blooms that give off a faintly mothball-like scent.
On the same table is a regal purple variety, Zygopetalum Artur Elle, a hybrid of Srull's that smells sweetly of vanilla and has won a gold medal from the American Orchid Society and a silver in Japan.