"Epic" is a trendy adjective heard in conversations describing a superior or memorable event, even a romance.
That contemporary meaning overlapped with its historical definition of a heroic poem when a recent March weekend held troupes of smiling women, men and children, bows slung over their shoulders alongside quivers of arrows as they meandered in the sunshine by the Tucannon River.
For the first time in 25 years, it wasn't raining as the hundred-strong Blue Mountain Archers hosted their 40th annual two-day invitational tournament on March 18 through 19 ─ though snow had fallen two days earlier there on the Umatilla Forest site.
About 20 club members from around Walla Walla arrived at the campground on Wednesday to prepare all the details so the weekend's event would function smoothly and safely.
Though the event attracted more than 326 Pacific Northwest archers, plus family and friends, by Monday morning the club would see to it that the event would "leave no trace," said the club president, Kevin Prchal (Perkel).
He works as an applications engineer at Key Technology, and travels to club events regularly with his wife, Susie; son Caleb, 12; and daughter, Isabelle, 11.
In addition to monthly meetings and an annual banquet, the club, which has 100 to 150 members, sponsors multigenerational archery events biweekly, primarily in temperate months at its range up Mill Creek Road east of Walla Walla, plus they hold a couple of mid-size tourneys in the region.
There are events and excursions for people from age 4 and up, which adds to the club's emphasis that, like skiing, club archery is a family activity.
Still, equally important is the club's chief purpose: to teach ethical shooting and fair-chase hunting to bowhunters, Prchal said.
Outdoor competitions such as this one on the Tucannon River feature three-dimensional, life-like targets made of foam ─ from turkeys to wild boars to elk and all the game animals in between.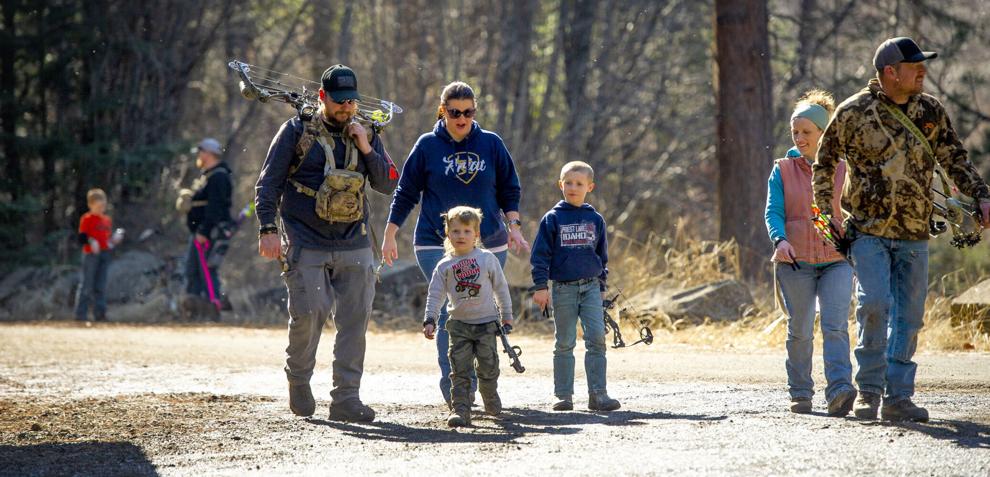 The club owns 80 of these life-size decoys, the better to have members gain practice with bagging game humanely.
The aim is to teach bowhunters how to hit their aim perfectly so that animals struck by arrows will drop quickly and not suffer.
Dave Eaton, a course captain who has been with the club 35 years, mentioned that a bowhunter only bags a live elk once every seven years — if lucky.
Course captains mapping out the trails study angles where shooters will stand to target lightly camouflaged decoys.
Archers only travel one way on each course, no doubling back.
"We set the course up so there is no safety issue," said Eaton, who had come early to set up with John Lovejoy, an archer and club member of 30 years.
"Safety is everything," said Eaton. "We don't want to stick anybody."
Each of the four designated courses mapped had 10 targets.
Depending on the age and skill level of the archers, one at a time, they stand at a marker, the distances to the target measured by a range finder.
Most shots are 15 to 40 yards away with several "more challenging" shots set for 40 to 60 yards, explained Prchal.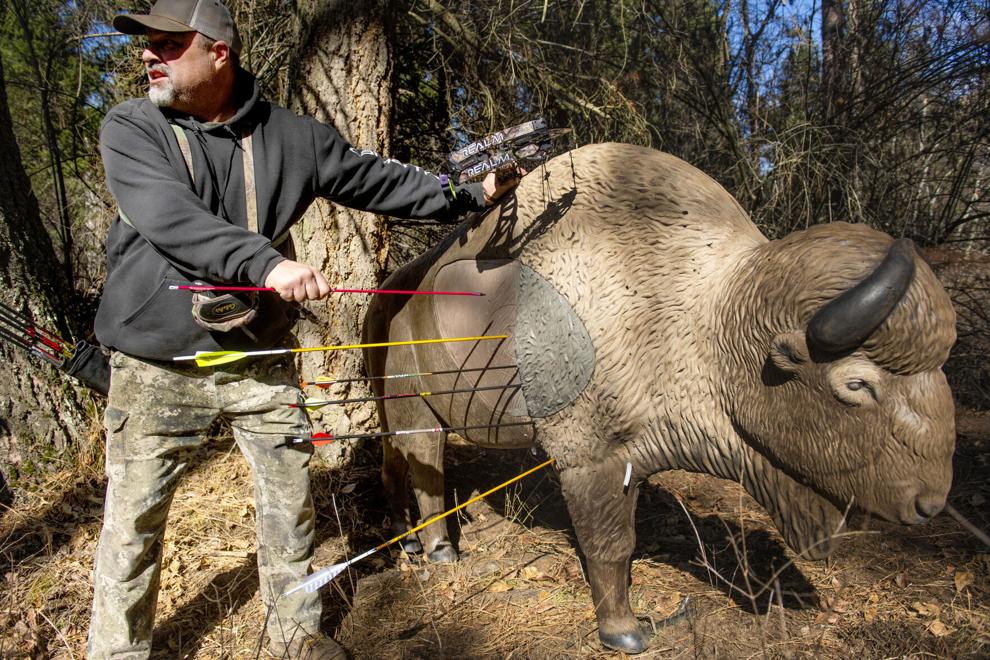 An archer prioritizes perfect strikes to specific animals' vital organs such as the heart, which are marked on the decoys with concentric circles and points.
Competitors track their points on the honor system and turn in their scorecards for trophies.
No alcoholic beverages are allowed on the courses and swearing is frowned upon. The nonprofit organization is apolitical.
First, second and third place club pins go to the most impressive point totals each day, which are posted. But many registrants simply opted for the leisure category.
They would not have their scores posted but could turn in their colored scorecards for door prizes.
In the registration tent ─ this event cost $30 per archer or $35 for a family ─ relative newcomer Adira Awe held down the position of secretary-treasurer for the club.
She is not a bow hunter but is interested in target shooting, which she can also do at club events. Awe, the Whitman College women's lacrosse coach, moved to Walla Walla from Chicago in 2021.
Though she had not handled a bow before, she and her husband, who also works in fitness at Whitman, took a newcomer's leap and joined the club.
The idea of learning an athletic lifelong sport such as target archery, combined with meeting new people, checked their boxes.
"We started as beginners," Awe said, "and at first the bow and all was intimidating, a little scary because there are so many specifics. But when what you do is broken down, and you learn the reason for the details, it's not unlike lacrosse. And the club is really neighborly. It really helps boost confidence."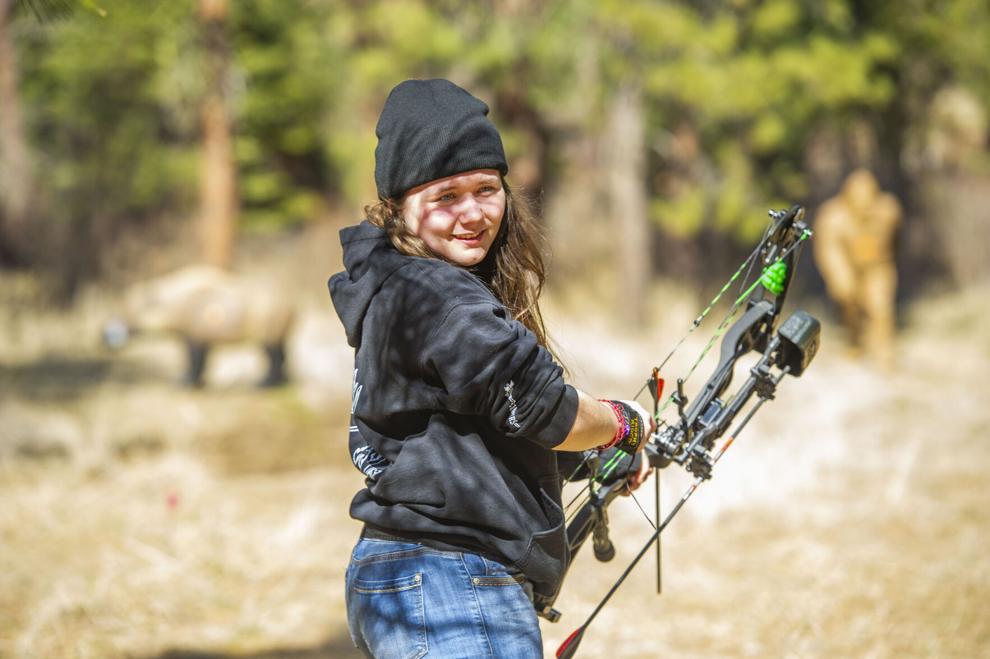 One member who joined the club five years ago is Ben Tice. His professional life is with the U.S. Army Corps of Engineers.
Off duty, he's been willing to gently tutor newcomers and young people, just in exchange for donations to the club if people want to contribute.
He said he has six or seven very adjustable bows to fit a wide range of people when it comes to draw length ─ how far back an archer can pull on the notched arrow and string while aiming ─ and to fit a bow of the right weight for the person.
The club president noted that there are more women than men in the club. There are no age or gender parameters to the club.
"We're open to all," said Prchal, who added later that the popularity of the 2012 "The Hunger Games" movie and its sequels, which spotlight a young woman as a skilled archer, piqued public interest in the sport and the club.
A used compound bow, which has top and bottom pulleys on it to assist with draw strength, accuracy and velocity, can be purchased for $300.
But, as Eaton said, "you learn you're not as good as you think you are pretty soon."
A new bow can cost $1,000. "The more invested you are, you try harder," said Eaton with a sympathetic laugh.
Bows and arrows that can be sized to fit the archer's parameters are available at sporting goods stores.
The club has several aspects beyond supporting learners and experienced archers.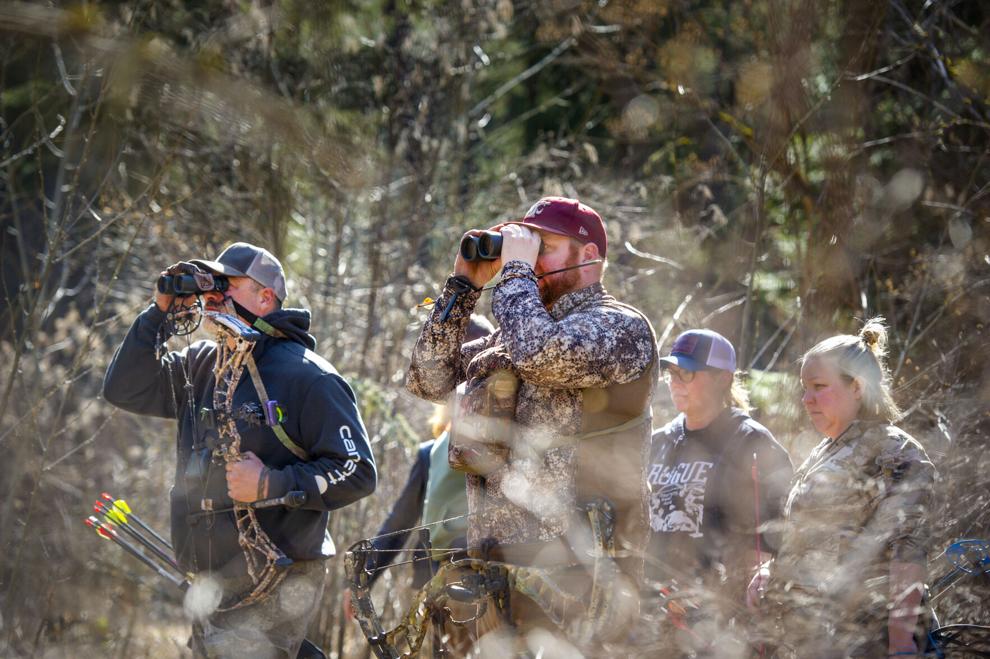 Though at first archery's major components appear deceptively simple: bow, arrows and draw string, there are many subtle details.
Personal control of body, breath and mind goes into mastering this ancient sport used for hunting and, in the past, as weaponry.
At 14, Troy Beckmann, sporting a graceful wooden hybrid recurve bow out on a course, showed that the classic bow used by Olympian archers can compete alongside compound bow archers.
The difference is that Beckmann's bow allowed him ─ or forced him ─ to snug in closer to the target than those with composite bows.
Yes, he said, there's almost painful resistance to drawing the strings on his recurve, yet with quiet youthful bravado, he said he's up for the challenge.
He lifts weights and works out for upper body strength to give him the power to aim steadily and release arrows with the penetrating velocity necessary to strike targets ─ and not lose arrows.
Back near the center of the campsite event, Cody Taylor, the club's vice president, stood in the afternoon sunshine, watching his daughter Bella, 14, who was lifting and drawing her compound bow, eyeing a 3D foam boar with an orange dot several yards away.
While waiting for a turn himself, Taylor pointed out that his compound bow's design incorporates an arrow quiver into vertical slots on the bow frame itself.
Though such adds weight, alternatively, a quiver tied to his thigh with arrows in it likely would rattle and scare off game.
"There you go!" Taylor exclaimed as Bella took one of her three shots. He smiled.
He said simple exposure to the club and archery itself over the years had built an attraction for her to pursue the timeless skill.
"We don't force it," he said. "Kids will build their own love for the sport."